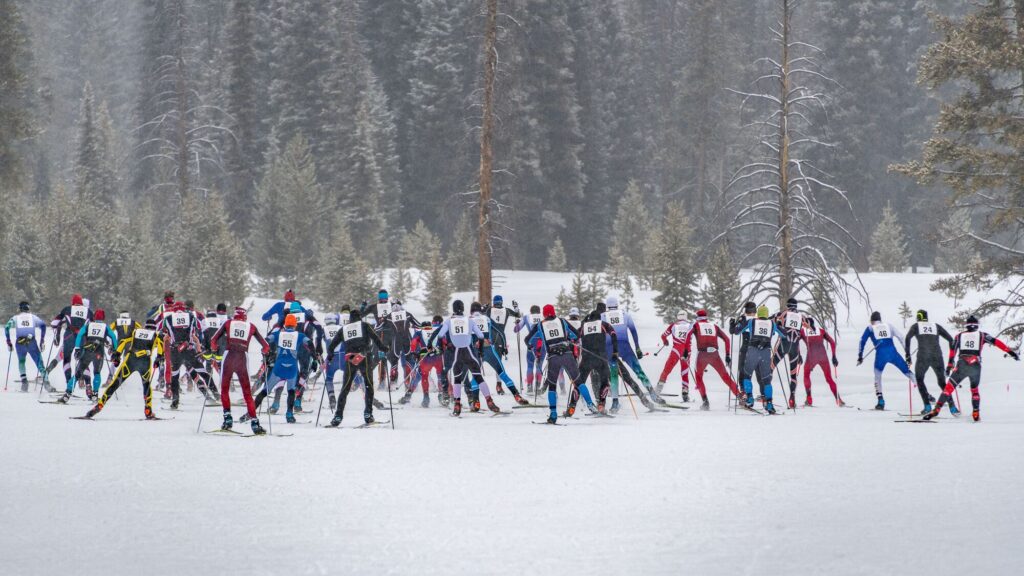 Boulder Mountain Tour Ltd. is an IRS 501(c)3 nonprofit organization whose mission is to organize and promote the Boulder Mountain Tour ski race and to support the sport of cross-country skiing. Volunteers drive the Boulder Mountain Tour's engine.  Our event receives support from more than 350 Wood River Valley individuals and businesses.
Board of Directors – 2021/22
Boulder Mountain Tour Ltd. is governed by a Board of Directors and an Organizing Committee composed of the following local individuals:
President – Paddy McIlvoy
Secretary – Muffy Ritz
Treasurer – Sue Hamilton
Tom Bowman
Matt Gelso
Svea Grover
Jamie Lieberman
Andy Munter
Don Nurge
Mary Rose
Bob Rosso
BMT Organizing Committee
Race Director – Jody Zarkos
Eric Rector – Chief of Course & Grooming
Rick Kapala – Chief of Start
Kelley Yeates – Half Boulder Start
John Reuter – Chief of Finish
Prime Time Timing – Official Race Timing
Bobby Noyes – Backup Timing
Mike Wolter – Race Secretary
Travis Jones – Finish Line Announcer
Bryce Turzian – Road Crossing
Ashton Wilson – Galena Backcountry Ski Patrol
Andy Munter – Transportation and Toilets
Pete Stephenson – Race Bag Transport
Roberta Heinrich, Gay Riley & Julie Gallagher
Jenny Busdon – Race Packet/Bib Pick up
Nils Ribi – Photography
Jim Keller – Banners
Jim Keating – Blaine County Recreation District
Erin Zell & Don Shepler – Galena Lodge
Sawtooth National Recreation Area
Ted Angle – Head of Volunteers
Tom Bowman – Aid Stations
Aid Stations
Sun Valley Community School
Sun Valley Suns Hockey
Sturtevants
Girls on the Run
Galena Lodge
​
The Boulder Mountain Tour operates under a special use permit by the US Forest Service on the Sawtooth National Forest under the USDA.