Whether you're a novice, intermediate or even advanced skier, the following guidelines should help your training for the BMT. I like to get in on a weekly basis, my three "Cornerstone" workouts. If I don't have time to do anything else on skis during the week, these workouts should suffice. Any more skiing is icing on the cake! Just be careful not to overdo it.
The three cornerstone workouts are these:
1. OVERDISTANCE 
I do this workout at a level 1-2 (fairly easy) and start around 90 minutes. Over the course of 6-8 weeks I gradually build up to about three hours. The intensity of the workout isn't hard, it's the time spent skiing that gets you a bit tired. Also, the time spent chatting with your friends as you ski might be draining. Ski at "conversation pace!"
2. INTERVALS
Intervals can be any form of short and fairly hard efforts. (Level 3 and 4 out of 5). These can be repeats over the same terrain or incorporated into a ski going anywhere, or whatever fits your needs. Adequate rest is essential between the hard efforts. Examples: 4 x 4 minutes with 2 minutes of rest between each effort, ladders of 2,3,4,5,4,3,2 minutes hard, with half the time rest between, or ski down or up the Harriman trail and ski hard every other kilometer or ski your own trail system and go hard on all the uphills and easy everywhere else. Be creative! Make sure to warm-up for 15-20 minutes before you start intervals and cool down afterwards.
3. TIME TRIALS
After a 15-20 minute warm-up, pick a distance (5, 10, 15, 20, 25k) and ski it as you would a race – at race pace. Early in the season, don't go too hard, and gradually increase the intensi-ty and distance as you get more fit.
Get plenty of rest between workouts and don't put in two hard workouts back-to-back. For example, don't do intervals one day and a time trial the next day!
Bring water with electrolytes with you as you train. It's hard to know in winter if you are dehydrated!
The week before the BMT, back off and "taper." It really does make a difference!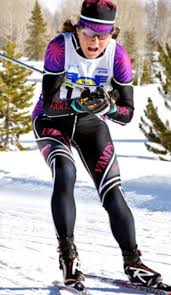 I'll see you on the start line on February 2, 2019!
By Muffy Ritz
Muffy Ritz, a former U.S. Ski Team Member and 38-year member of the Rossignol Ski Team, is a two-time winner of the American Birkebeiner, founder of the crazy VAMPS program, and multiple BMT podium finisher as well as a BMT board member.