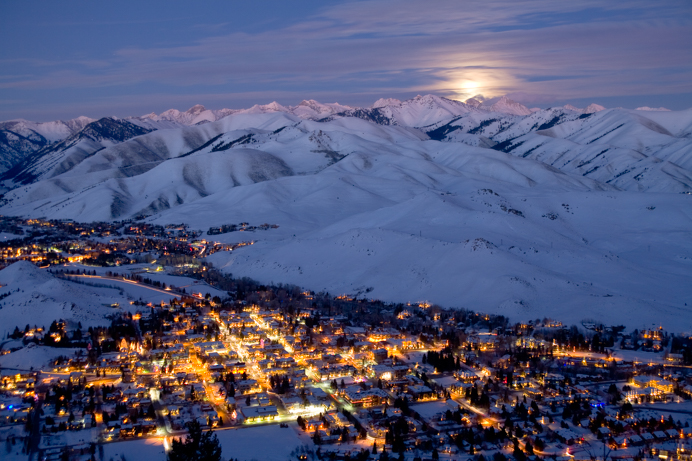 Visitor Information & Local Resources
HOW TO GET HERE
Friedman Memorial Airport (SUN) is located in Hailey, twelve miles from Ketchum.
SUN is served by Delta Airlines, Alaska Airlines, and United Airlines. Taxis and rental cars are available at the airport, and Mountain Rides offers daily bus service to and from the airport.
See Mountainrides.org for more information.
Boise Airport (BOI) is about a three-hour drive away, and there is bus service to and from that airport on Sun Valley Express. Salt Lake City Airport (SLC) is about a 4.5 hour drive away.
For more information on getting here, including driving instructions, flight schedules, and rental car companies, go to Visitsunvalley.com
WHERE TO STAY
Discounted rates are available at the following hotels:

Please see LODGING page for rates.
For reservations at either location call (208) 471-4716. Please reference Boulder Mountain Tour.
For other lodging options, go to Visitsunvalley.com
WHERE TO EAT
To-Go Meals:
Atkinsons' Market
In addition to being a full-service grocery store, Atkinsons' has a coffee and pastry kiosk, made-to-order deli sandwiches, fresh soups, hot and cold lunches and dinners, sushi, and other ready-made meals. They also offer a grocery delivery service.
Open daily 7 a.m. – 9:30 p.m.
Ketchum store: 451 4th Street East (208) 726-5668, Hailey store: 93 E. Croy (208) 788-2294
Atkinsons.com
Sit-Down Service and To-Go Meals:
Perrys
Perry's offers a full grill menu, soups, freshly baked bread, made to order hot and cold sandwiches, fresh seasonal salads, premium beer and wine, as well as delicious homemade desserts.
Perrys opens at 7 a.m. daily and serves breakfast and lunch. Ask for the "Nordic Skier" discount.
Corner of 4th Street and 1st Avenue, Ketchum (208) 726-7703
Perryssunvalley.com.
Glow
Glow is an organic and plant based cafe. Winter menu includes 3 hot soups daily, Indian Curry and Southwest Bowl, Baked Pizzas, pressed juices, superfood smoothies, matcha lattes and cacao desserts.
Open M-F, 9 a.m.-5 p.m., Sat 10 a.m. – 5p.m.
380 Washington Ave #105, Ketchum, (208) 720-8399
Glowlivefood.com
Sun Valley Village Station
This brand-new restaurant in the Sun Valley Village has an extensive craft beer selection, full bar, four large screen televisions, and American cuisine, including pizza, pasta, fresh salads, and burgers. Take-out family style packs are also available. Enjoy the shops and festive lights of the Sun Valley Village while you're there. Open 11 a.m. – 10 p.m. daily.
Sun Valley Village next to the Sun Valley Inn, Sun Valley (208) 622-2138
Sunvalley.com/dining
Sushi on Second
In addition to delicious, fresh sushi, Sushi on Second serves steaks, fish, tempura, salads, noodles, appetizers, teriyaki, premium sake, beer and wine. They have a 20-seat sushi bar, and two private tatami rooms that are ideal for groups.
Open nightly at 5:30 p.m.
260 Second Street, Ketchum (208) 726-5181
Sushionsecond.com
The Cellar Pub
Legendary for their fish and chips, the Cellar Pub also offers a variety of other pub-style foods, including buffalo burgers, flank steak salad, bangers and mash, and more. They have a full bar, draft beers and fine wines. The game room has video games and shuffleboard.
Opens at 4 p.m. daily
400 Sun Valley Road downstairs, Ketchum (208) 622-3832
Thecellarpub.com
Lefty's Bar & Grill
Lefty's serves killer burgers, tasty subs, fresh salads and their specialty, hand-cut fries; quality meals at affordable prices. They have a full bar and also offer 13 draft beer selections, nearly 30 bottles of beer and wines by the glass. Their HD satellite TV plays "all the games, all the time."
Food is served from 11:30 a.m. – 10 p.m. daily. Bar is open late. Takeout available.
231 6th St at the corner of 6th and Washington, Ketchum (208) 726-2744
Leftysbarandgrill.com
Ketchum Grill
Housed in Ketchum's oldest remaining home, the Ketchum Grill has been serving up fresh and sustainable cuisine for nearly 23 years. Ketchum Grill specializes in fruit-wood grilled meats, Idaho venison and lamb, fish, small pizzas, home-made breads and desserts. Many of the Northwest's and California's finest wineries are represented on their awarding winning wine list, and they also have a great selection of micro-brews.
Open nightly at 5 p.m.
520 East Ave, Ketchum (208) 726-4660
Ketchumgrill.com
Enoteca
Enoteca features house-cured meats, artisanal cheeses, local honey, traditional, wood fire, Napoletano style pizza, and a variety of other dishes with a focus on local and sustainable ingredients.
Open at 5 p.m. daily
Corner of Sun Valley Road and Main Street, Ketchum (208) 928-6280
Ketchum-enoteca.com
Town Square Tavern
Town Square Tavern serves up flavors inspired by the Mediterranean regions stretching from the Middle East to North Africa, to Spain, Italy and France.
Open daily at 5 p.m.
360 East Ave North, Ketchum (208) 726-6969
Ketchumtavern.com
SPORTING GOODS AND WAXING RESOURCES
Backwoods Mountain Sports
Open daily 9 a.m. – 6 p.m.
711 Main Street North
Ketchum
(208) 726-8826
Backwoodsmountainsports.com
Elephants Perch
Open daily 9 a.m. – 6 p.m.
280 East Avenue (corner of Sun Valley Road and East Ave)
Ketchum
(208) 726-3497
Elephantsperch.com
For more local information go to Visitsunvalley.com