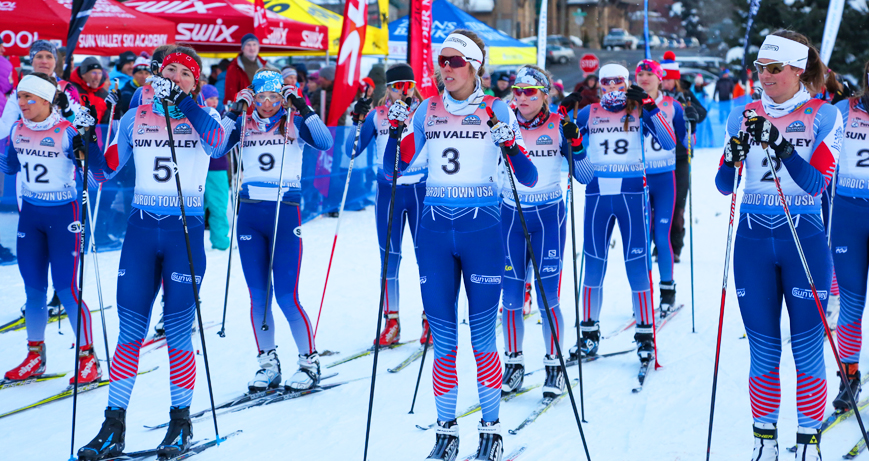 The Zions Bank Boulder Mountain Tour and Sun Valley Nordic Festival welcome you to NordicTown USA in beautiful Sun Valley, Idaho. Independent groups, organizations and individuals such as the Blaine County Recreation District, Galena Lodge, Sun Valley Nordic, the Sun Valley Ski Education Foundation, the Vamps, local businesses and a slew of generous dedicated individuals have come together to give you the best Nordic experience on the planet.
Come to Sun Valley, Idaho and enjoy everything NordicTownUSA has to offer.

SV Nordic Festival and Boulder Mountain Tour Schedule of Events
January 31 – February 3, 2019
THURSDAY, January 31
NordicTown USA Sprints & Boulder Mountain Tour Opening Ceremony
On the corner of 4th St and 2nd Ave, across from the Ketchum Post Office.
3:30 Registration and Bib pick up.
4:15 Welcome to the 2019 Boulder Mountain Tour!
4:30 Youth Mass start: 1-lap event.
4:45 Youth Mass start: 2-lap event.
5:00 Paralympic Race: 2-lap event.
5:15 Main Event: Team Relays.
The NordicTown USA Sprints provide skiers a chance to go head to head in a two-person sprint relay format. The event features top racers from across the US, Paralympic athletes and Sun Valley Ski Education Foundation junior racers.
An exciting spectator event not to be missed. Come cheer on the Teams!
Main Event Format: Skate technique, Two-person co-ed teams.
Race Length = 8 legs. (1 leg = 2 laps of course) Each skier completes 4 legs
Course: Multiple laps on a 400 meter oval.
Seeding: Teams will be seeded by adding overall USSA points of both team members OR by using past BMT results.
Registration: Near the start line 3:30 pm – 4:00 pm.
Main Event Entry Fee to compete for Prize Money: $20/team. Para and Youth are FREE.
Prize Money
| Place | Prize |
| --- | --- |
| 1st Place | $300 |
| 2nd Place | $200 |
| 3rd Place | $100 |

For more information contact Rick Kapala 208 726-3899 or
FRIDAY, February 1
Boulder Mountain Tour Race Packet Pick-up & BMT Expo
10:00 am – 8:00 pm 
LOCATION TBA
Race Course Inspection All day – Harriman Trail
BCRD trail pass or BOULDER PASS required.
Course closed for race grooming 4:00 pm
SATURDAY, February 2
Zions Bank Boulder Mountain Tour
10:00 am sharp
34 kilometer race starts in Senate Meadows / Galena Lodge
No private vehicle parking at Galena. Bus shuttles run from Hemingway School in Ketchum.
see INFORMATION-Bus Transportation
Half-Boulder
approximately 11:30 am
15 kilometer race starts at Baker Creek
Limited private vehicle parking at Baker Creek. Bus shuttles run from Hemingway School.
see INFORMATION-Half BMT-Bus Transportation
Boulder Mountain Tour Awards Ceremony
5:30pm – 7:00pm
Sun Valley Inn, Sun Valley
Age class, Wave winners, Special Awards and Raffle.
SUNDAY, February 3
Nordic Demo Day
10:00am – 2:00pm
Sun Valley Nordic Center, in Sun Valley
Exchange your BMT race bib for a FREE trail pass at the Sun Valley Nordic Center trails.
Special $10.00 discounted trail fee family and friends of BMT racers.
The Boulder Pass is not valid on Sun Valley Nordic Center trails
Come try out the latest Nordic ski gear from BMT sponsors while you explore up to 40 km of Sun Valley Nordic Center trails.  Enjoy a delicious lunch in the lodge.