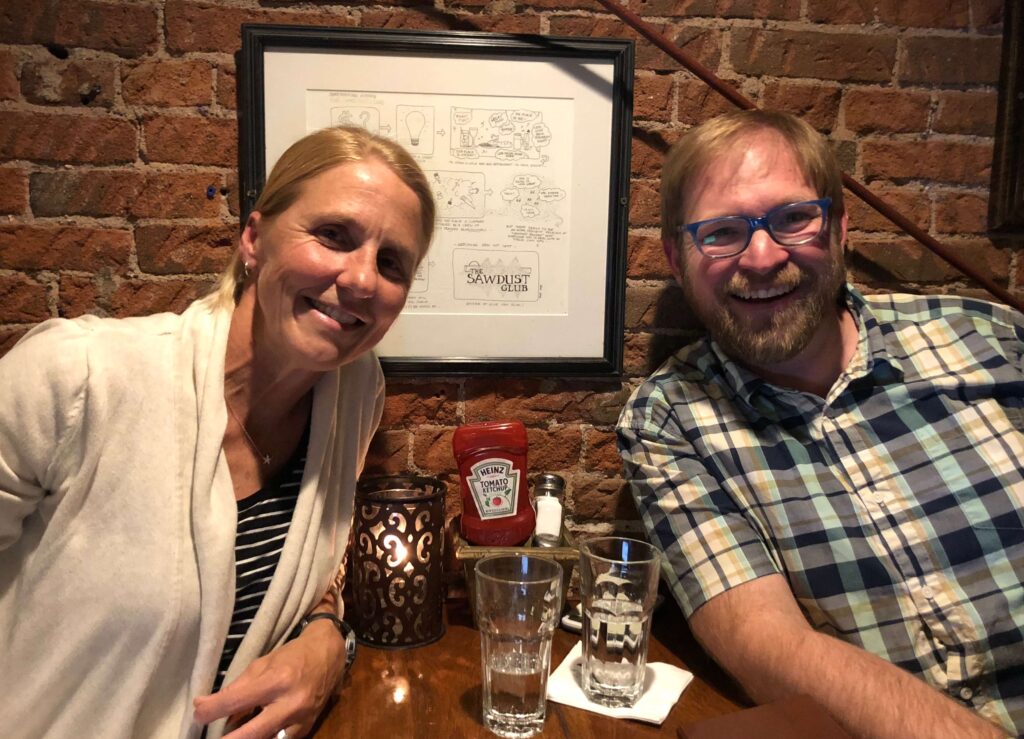 Crashing a meeting between Martha Pendl and Paddy McIlvoy, two new members of the Boulder Mountain Tour board of directors, is like having a front row seat at an Improv Night comedy show – albeit German improvisation.
"Du sprichst Deutsch?" Martha asks Paddy. ("You speak German?").
"Ja, ein bisschen Deutsch," Paddy affirms, apparently thrilled to be conversing in another language.
"Das ist wunderbar. Ich liebe es!" Martha exclaims. ("That's wonderful. I love it!" – according to Google translate).
This exchange is delivered with the energy level and excitement of two 8-year-olds about to go trick-or-treating, which is a fitting mindset for the pair of Sun Valley Ski Education Foundation coaches. Martha, a SVSEF and Wood River High School alumna, is the head coach of the Cross Country Devo Team at Lake Creek, taking over this year for longtime skipper Dave Bingham. Paddy has been with the devo program for 14 fun-packed years.
"Whatever else I am doing in my life, two days a week I get to go skiing with a bunch of psyched kids," he says. "How great is that?!"
One of four Pendl sisters (Barbara, Liz, Christina) born in Sun Valley to Austrian parents, Martha remembers being in the Bill Koch Ski League coached by Janet Kellam and Liza Pascall at Bigwood Golf Course.
"Every Tuesday in second grade, I wore my knickers and three-pin ski boots to school," Martha recalled. "It was mostly me and the Jaquet brothers, but when I saw the big kids out skiing – the Stones, Harpers, SJ, Kim Csiz, my sisters – I knew I wanted to be like them. By the time I was a "big kid," there were about 15 of us on the whole team."
Once a year the ski team kids would tackle the BMT course and it was a big deal, Martha recalls.
"They wouldn't groom the course all year and when they did for the race it was such a treat. I always wondered if I was going to make it the whole way."  
For Martha and her sisters, the Nordic ski team was a perfect blend of family, friends and culture.
"They were Austrian (her parents) and skiing was just part of their life. It is what they did and it is what we did growing up. We would ski out Lake Creek or Murdoch Creek with friends on weekends, have a picnic, and ski back. My sisters and I would ski around in the field in front of our house. It was so accessible and fun."
For Paddy, the cross country trek was a little more solitary, but no less encompassing, despite growing up in Las Cruces, New Mexico, a city located on the edge of the Chihuahuan Desert.
"My father was a serious "nordork" from Colorado. We used to go ski the dunes at White Sands and tried our best to figure out a wax where the skis would slide, but we never did. We would drive five hours to Angel Fire to ski a one k loop. My brother hated it. I hated it and some point I loved it," he said.
Paddy matriculated to Prescott College in Arizona, earning a degree in Outdoor Adventure Education.
"When I was there I got back into skiing in a big way and did some extremely informal and talentless racing," he says with a big smile and dollop of stolz.
Martha, a junior national champion in relay, skied collegiately as a freshman at Middlebury College and the remainder at the College of Idaho in Caldwell, where she was a six-time All-American in the 7.5k freestyle, 10k classic and relay.
Post-college, Paddy was looking for "the best playground I could find to fish and ski and climb," and found it in Sun Valley in May of 2003.
"I didn't know anyone and had a lot of time to Nordic ski. I was skiing a bunch with Doran (Key) and the next winter after I moved she told me Rick Kapala was looking for another Nordic coach. I said I wasn't very good at the teaching side and better at the fun side – no one ever said I should Nordic ski less. I have been coaching ever since. Now I am better at the skiing along with the fun. It's a really good time," he remarked.
In 2003, Martha moved to Driggs, Idaho, carrying on the family tradition of a konditorei, opening a pastry and coffee shop, Pendl's Bakery and Cafe, featuring Austrian staples reminiscent of those found in her father Fred's cases at Pendl's Pastries in Vargold Lane in Ketchum back in the day.  
Despite living in Driggs, Martha made her annual pilgrimage to participate in the Boulder Mountain Tour.
"It's a community friend with its own personality and reputation – a friendly neighborhood shop you visit every year," she says. "When I lived in Driggs and I would come back every year and it was like skiing with 200 of my best friends. I joined the board to be part of the process and give back."  
Giving back, being involved and a love for the sport of cross country skiing are themes that are repeated throughout our conversation and it's apparent both Martha and Paddy have a deep and abiding affection for the Boulder.
"My best BMT memory is not one I skied in. It was the infamous canceled race," Paddy recounts. "I was in Backwoods, waxing skis the night before. One of the sets of skis belonged to a group of five guys who were sit-skier athletes. The next morning I was there at 6 a.m. to hand out skis. I would say 80 percent of the people did not show up to get their skis. When I pulled in at 6 a.m. all of the sit-skiers were in the driveway waiting for me – and there's 18 inches of fresh. That is radical."
Martha takes her turn.
"I signed up the night before – hadn't skied much but I knew I had muscle memory and enthusiasm. When I came across the finish line, there were my two kids, 6 and 2 years old,  wrapped in every bit of clothing they had and screaming, "Go, Mom!" You feel like an Olympian coming down the finish lane, Bob Rosso announcing your name, kids cheering, old friends smiling. I'd made it. My kids gave me a hug, then promptly bolted for the cookie table."
Willkommen auf dem brett, Martha und Paddy!
Martha and her husband, Geoff Hebert, have two school-age children, Eloise and Callahan. Paddy freely admits when he married his wife, Morgan, "I took that whole marrying-up thing to the nth level."
The Boulder Mountain Tour board of directors is comprised of Tom Bowman, Sue Hamilton, Martha Pendl, Paddy McIlvoy, Andy Munter, Ivana Radlova, Muffy Ritz, John Reuter, Bob Rosso, and John Seiller.
By Jody Zarkos