It is said that roots don't lie. You can take that a couple different ways.
In the case of Svea Grover, who was born and raised in Alaska, her roots in cross country skiing run as deep as the Bering Sea and as true blue as the water in it.
When she was six-years-old, her family moved from Ketchikan to Homer, Alaska, ("Where the Road Ends and the Sea Begins"), and built their first home, a 20-by-24' one-room cabin on 40 acres, located 14 miles out of town and a mile off the main dirt road, according to Svea. When the main road is composed of dirt, you are definitely well off the beaten path, but that seemed to suit Svea and her family just fine.
Svea recalls, "With no snow plow for many years, this meant learning to cross country ski to get in and out of our property. I skied to the school bus stop from our home every morning, leaving skis by the mailbox for many years. I learned to love that cold air on my face and the snow under my skis!"
Her love of skiing continued unabated through middle school and high school, to Junior National Championships, and, eventually to college at the University of New Mexico, where she was a member of the Lobos ski team in 1985-1986. Svea was one of two Americans on the 11-person team. The roster was rounded out by Finns and Norwegians racing for longtime coach Klaus Weber, who was enshrined in the New Mexico Ski Hall of Fame in 2010.  
Deciding she needed to branch out, Svea continued her education at the University of Oslo in Norway for a year, then enrolled for a year at a Norwegian business school before returning to the states to finish her bachelor of science degree in Hotel and Restaurant Management at Northern Arizona University.
Fast forward to 1994, Svea moved to Ketchum and began coaching for the Sun Valley Ski Education Foundation's cross country team and program director Rick Kapala. By good fortune, Kapala hired one of his former racers from Anchorage in 1996, a young man by the name of Chris Grover. While matchmaker is not a word normally associated with Kapala, he definitely cast Cupid's bow at the pair, culminating with walking Svea down the aisle when the two married in 2001.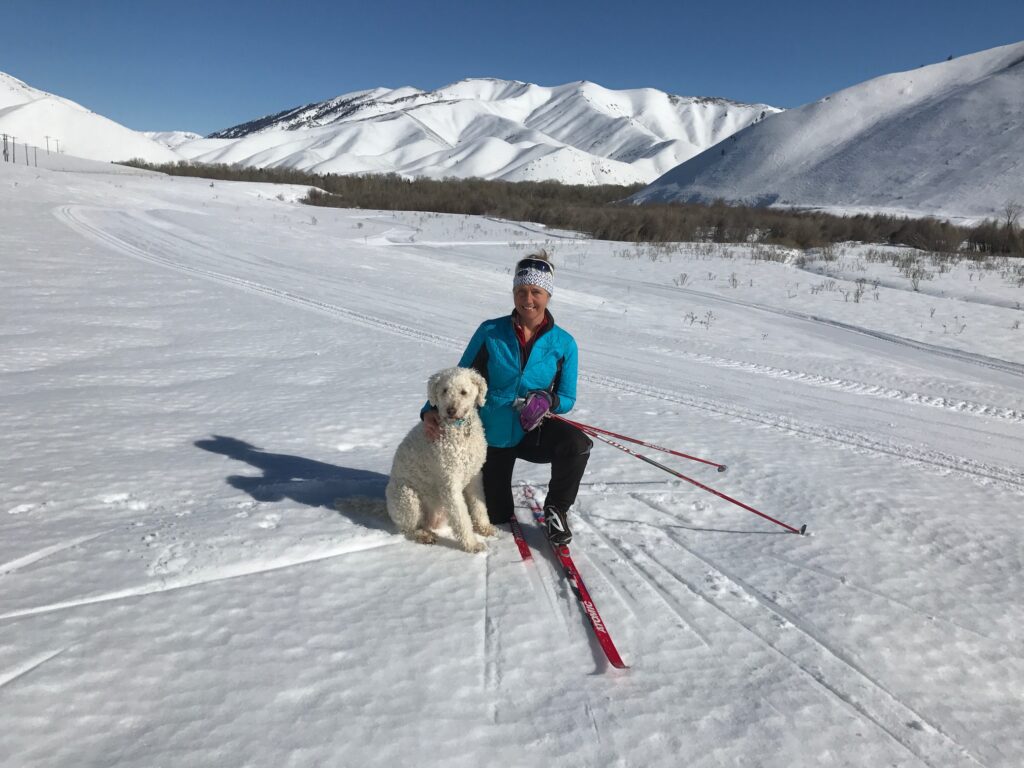 After living in Bend, Oregon, and Park City, Utah, Svea and Chris moved back to Hailey with their very young daughters, Eva and Anja. Chris took the role as head coach of the SVSEF Gold Team, created to train elite cross country skiers and provide funding to pursue racing at the highest level possible. Grover, who began coaching with the U.S. Development Ski Team the late '90s returned to the organization in 2006 and has been the head coach of the U.S. cross country team since 2009, overseeing some of the team's greatest success to date, including its first-ever Olympic gold medal for the U.S. women.
A skier, coach, wife of a coach, and mother of competitive skiers, Svea holds every possible role in relation to the sport of cross country skiing and in May of 2019 added one more; board member for the Boulder Mountain Tour. With the appointment, the board gains a knowledgeable and respected member of the cross country community and our community at-large.
Board vice president and fellow SVSEF ski coach Martha Pendl concurred, "Svea brings a unique wealth of knowledge to the BMT Board…as a competitive ski racer, a longtime SVSEF coach, parent and team volunteer, and an avid cross country World Cup and U.S. Ski Team enthusiast, she has a keen eye for a race well run. As a local business partner, Svea has been a dedicated supporter of cross country skiing and its continued growth and development in the Wood River Valley. Svea harbors many trusted relationships within our community, and I look forward to her advocacy and enthusiasm for the BMT as the newest member of the board. Welcome, Svea!"
A successful realtor with Engel & Vöelkers in Sun Valley, Svea remarked, "the BMT has a part of my life nearly each winter it seems – either volunteering as a coach at the start, skiing sweep with the coaches at the end, skiing the half Boulder with my then, little kids, TRYING to ski the full Boulder with my kids or being a sponsor of the event, it's always been something I've been proud to be a part of on whatever level."
"I'm thrilled at the honor of being invited to join the BMT board with this accomplished list of friends and colleagues from the nordic world, who have worked so hard to raise the bar each year. "I hope I can help give back to our community through this unique and important event."