BACK WITH A BANG: 2022 ZIONS BANK BOULDER MOUNTAIN TOUR
Beautiful blue skies and a sunny day matched the mood of the 801 registered racers at the 2022 Zions Bank Boulder Mountain Tour Saturday, Feb. 5, in Ketchum.
For the 49th year, the cross country ski race was held on the impeccably groomed Harriman Trail located in the beautiful Sawtooth National Forest. The race is made possible by a special-use permit through the U.S. Forest Service.
31-year-old David Norris, who very likely would have been competing at the Winter Olympics in Beijing had the U.S. Men's Cross Country team qualified for more than five individual berths, instead flexed his world-class form completing the 34-kilometer Full Boulder course in 1:17.08. Norris finished 1:08 ahead of Tyler Kornfield (1:18.13), a 2018 Olympian, and his teammate on the Alaska-Pacific Elite Ski Team.
"Tyler and I broke away from the field around 2km, and then a few km after Prairie Creek, Tyler slipped off the pace. From that point on, I was solo. Once I got away, I focused on finding a tempo and effort I knew I could effectively sustain to the finish. This was an awesome race to be a part of last weekend," Norris remarked.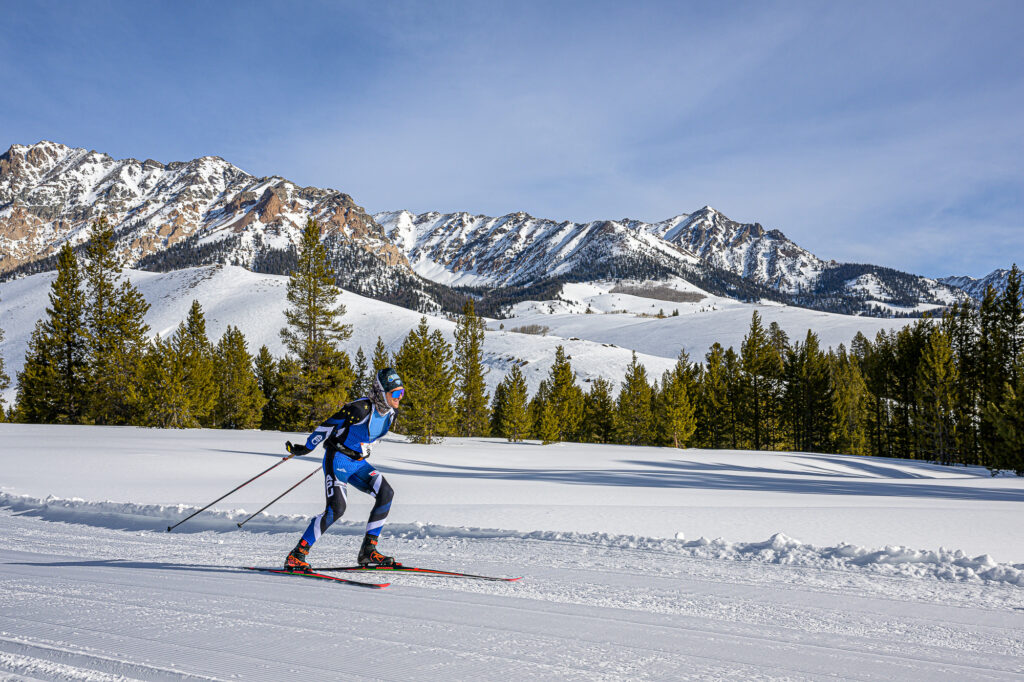 "This race has an incredible atmosphere. I love point-to-point race courses, so the BMT has always been on my bucket list," Norris said.
Kornfield clipped Jack Hegman (1:18.14) by 100th of a second. Hegman's third-place podium preserved Sun Valley Ski Education Foundation's top-three streak for the fourth straight year.
Like Norris, Leah Lange, the women's champion, won her Boulder debut in 1:27.02, clipping SVSEF Gold Team alum Mary Rose by 1/100th of a second. Mikayla Maier, a biathlete from Bozeman, Montana, skied to third in 1:30.37.
Lange, 23, a former standout at the University of Utah, skied to 30th place overall. She is the daughter of noted U.S. ski coach Gordon Lange. After bagging her Boulder victory, Leah skied another 20 kilometers with her mom, Lori, and gained 6,000-vertical backcountry skiing on Sunday.
"You have to make the most of these amazing Sun Valley weekends," Leah said with a smile.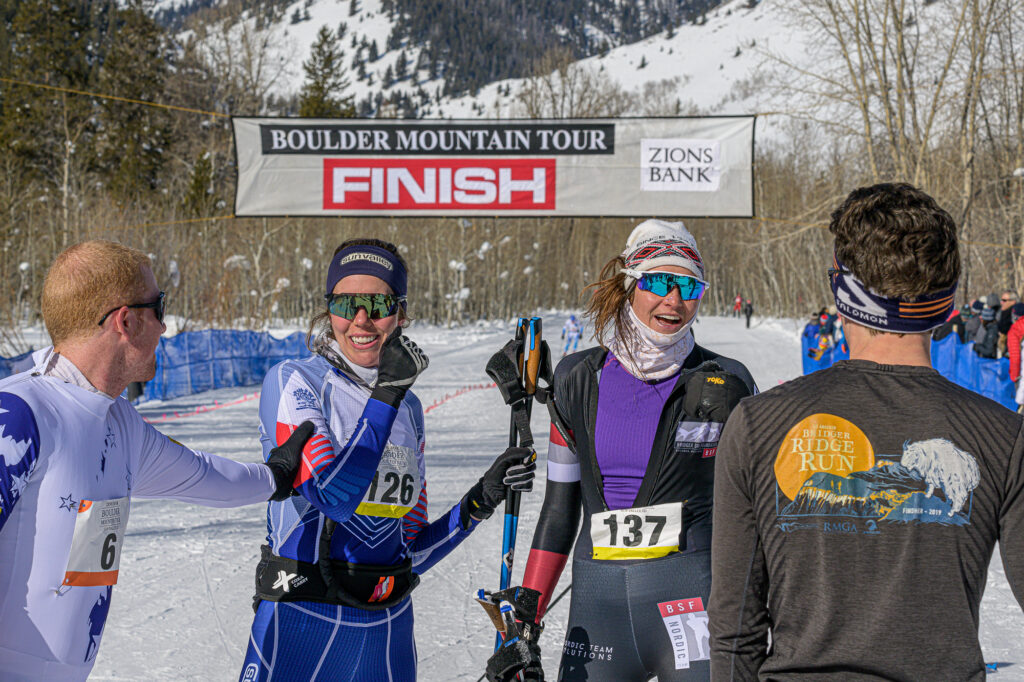 Lange and Norris earned $2500 apiece for their wins. Rose and Kornfield took home $1000 apiece and Maier and Hegman $500.
Norris and Rose captured both preems on course to pocket $200 each. Preems are sponsored by Sturtevants and the Jones-Grover team at Engel & Völkers.
Locals were pulling hard for Jake Adicoff, a U.S. Paralympic team member, and member of SVSEF from the time he was in second grade. Fresh off his first career world championship at the 2021 World Para Snow Sports Championships in Lillehammer, Norway. Adicoff looked strong as he crossed the finish line in 1:18.47.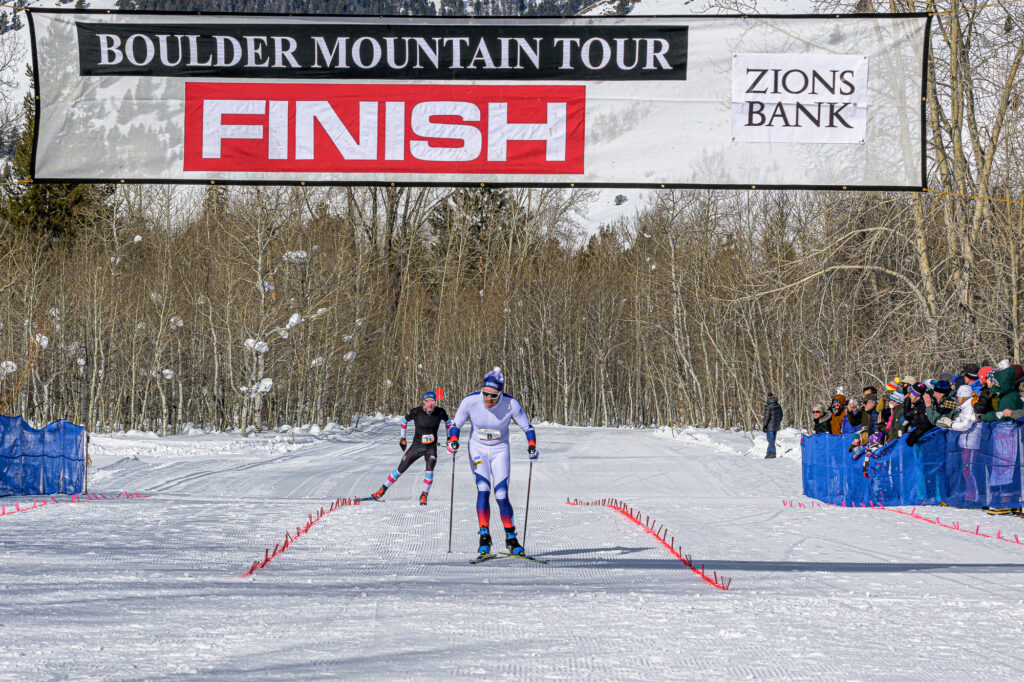 Adicoff will appear in his third Paralympic Winter Games next month. He was part of the largest group of Para athletes to register for the Boulder (18) and race (15). Many will join him in representing the United States in Beijing, including Ruslan Reiter (28th overall), Josh Sweeney, Dani Aravich, Grace Miller, and Lera Doederlein.
"I think Jake has great medal potential," commented Wilson Dippo, the Challenged Athlete Foundation's program manager.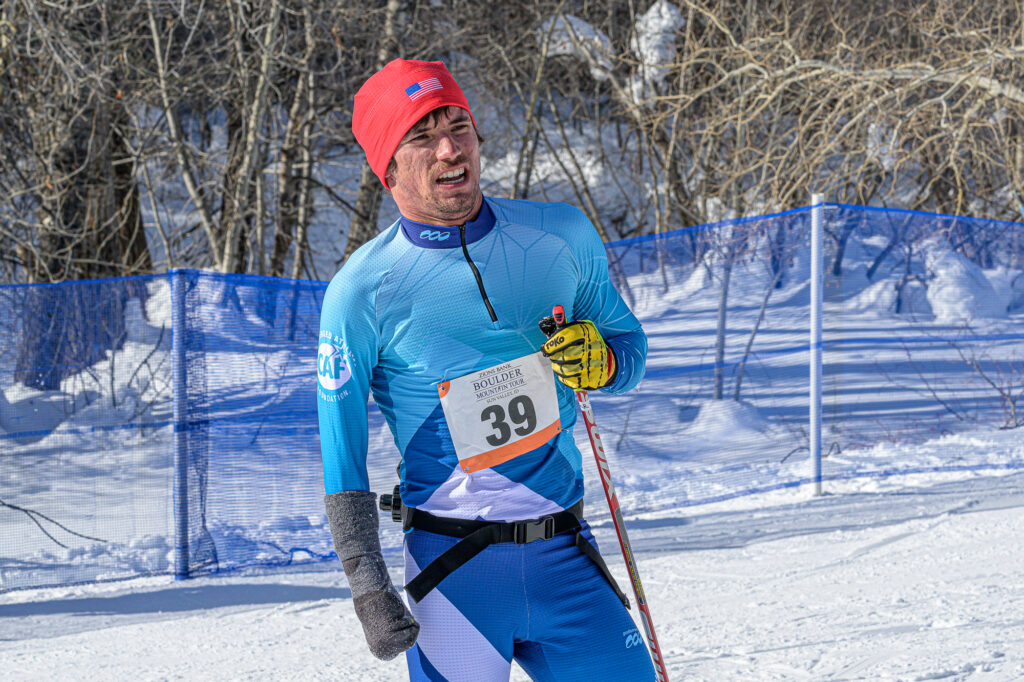 Para-athletes finishing in the top three of their division were awarded $1650 in prize money thanks to CAF. CAF has also committed to providing the prize purse in 2023 as well.
Adicoff, who is legally blind, bested a high-powered field in the top-10, including Nick Power, Tucker McCrerey, 2018 champ Matt Gelso, David Joda, Christian Gostout, and Jay Woodbeck.
Scott Schoen of Salt Lake City turned in one of the more notable performances of the day. Starting in wave 6, 20 minutes behind the elite men's wave, Schoen skied his way to 29th overall in 1:26.09. A skier who could not race transferred his entry to Schoen, and he also inherited his starting wave.
Schoen was one of 10 wave champions. All receive free entry into next year's race. Fellow wave winners were;
Wave 3 – Kristen DeHart and Ruben Castren
Wave 4 – Naomi Goldberg and Delamon Rego
Wave 5 – Carolyn Stwerka and Peter Manolis
Wave 6 – Gretchen Hurlbutt and Scott Schoen
Wave 7 – Rebekah Bunting and Matt Dugan
The Jon Engen Award for Most Improved goes to the skiers who improved their times by the most significant percentage year-over. 2022 times were compared to 2020, the last year the BMT was held in person.
Johanna Stangland and Zach Quesnel will receive custom-made belt buckles and belts bearing Jon's name. Stangland was almost 125 percent faster and Quesnel, a second-generation skier with SVSEF, dropped his time by 128 percent. His mom, Susie, was runner-up in the women's division with an improvement of 121 percent.
Oldest and youngest racers to finish the Full Boulder were Tullio Celano (79), Dorsey Naylor (79), Tristan Boloix (13), and Ella Cuneo (15).
In the Charley Course Half Boulder the oldest honoree was the man himself, 95-year-old Charley French. Shauna Thoreson (88) was back to take the women's crown. Jules Goldwarg (7), and Evie Loufek (1) were the youngest finishers.
The BMT featured a corporate team category this year. The "Fastest Business in the Boulder" was earned by Madshus/Rex Wax crew, composed of James Roloff, Sam Krieg, Kent Murdoch, and Doug Reid. Lutz Rental skied to second overall with Adicoff, Kris Thoreson, Emily Siegel, and Courtney Hamilton.
U.S. Para Team members Dani Aravich, a Division I track and field athlete, and Grace Miller, a 2018 Paralympian, dealt a one-two punch to take the overall and runner-up titles in the 15k Charley Course Half Boulder.
Aravich finished in a blistering 39:48 to become the first woman to record a sub-40 time in the event since it began in 2016. At 43:06, Miller was 1/00th in front of Bryan Price, a two-time Paralympian in biathlon and cross-country skiing.
"It was an amazing week," Dippo said. "We had four days of training leading up to the Boulder, which included two sessions nearly every day. We previewed the Half Boulder course, did speed and agility at Lake Creek, and competed in the town sprints on Thursday."
SVSEF hosts the USA Town Sprints
Once again, SVSEF racers turned out en masse and treated hometown fans to a vibrant and enthusiastic afternoon of sprint racing at Simplot Lot, or, as Rick Kapala likes to call it, in his usual understated manner, the "Ketchum International Ski Stadium."
"We had a great turnout for the Town Sprints. It seemed like we had hundreds of SVSEF XC skiers out on the trail chasing each other around," SVSEF Cross Country Assistant Program Director Kelley Yeates said.
"Thanks to BCRD for the great grooming and S.V. Ski Academy for the hot chocolate, Zions Bank for all their BMT support, and Galena/Vamps/Dons who sponsored the prize money given out to the top three elite teams."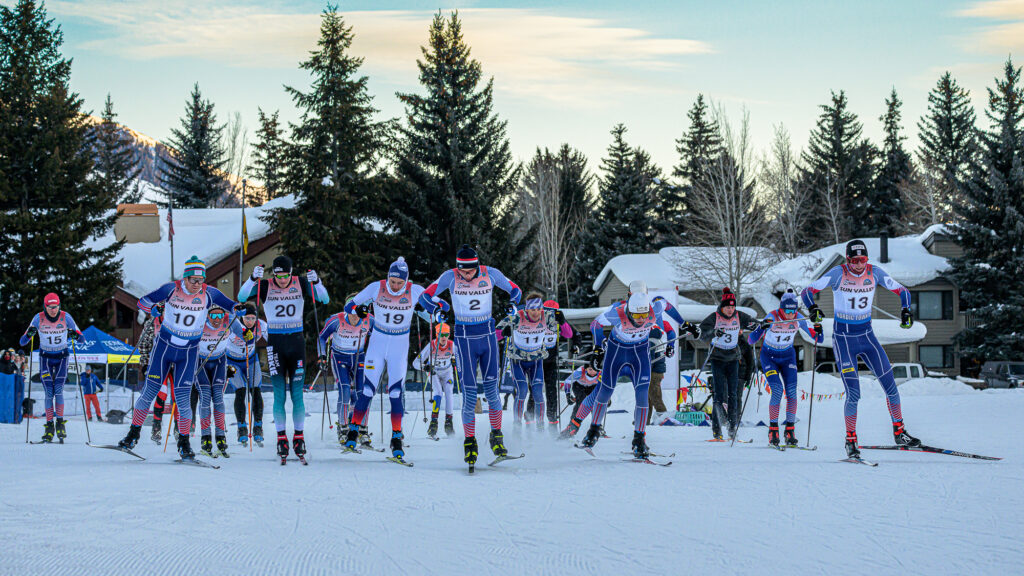 Following some great exhibition openers by the SVSEF Devo and Prep Cross Country teams, SVSEF Comp Team members joined forces with coaches, alumni, and some "innocent bystanders," according to Yeates, for the main event.
In a sprint relay format, 20 teams of two skied three legs (6 laps) each on a fast whoop-de-do track with men starting and women skiing anchor.
"It was really neat to see kids racing with Gold Team skiers, coaches, retired elite skiers, and top former collegiate racers. The vibe was fast and fun," Yeates said.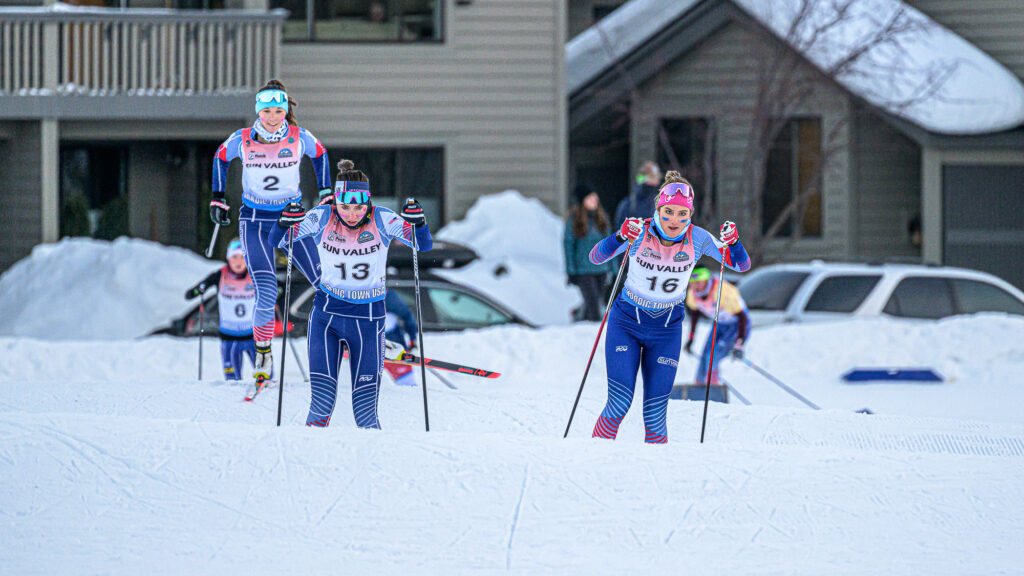 At the sprints, coach Dippo called the camaraderie the "highlight of the week" for his athletes. "I think everyone had a fantastic time, despite being pretty tired from the morning's training sessions," he said.
"We were so stoked to have them join us for the event this year," Yeates said.
Grace Miller and Heather Galeotalanza topped the Para field.
Matt Gelso capitalized on his pairing with standout Sammy Smith to win the elite class.
Ever the gracious competitor, Gelso laughingly remarked after the triumphant victory, "(It was) very entertaining to beat up on high school boys who spent the day before the race trash-talking about me being a fat, slow old man."
"Thank you to SVSEF and the volunteers for their efforts in making this fun, casual portion of the BMT happen," Gelso added.
A $600 cash purse was sponsored by The Vamps and Dons, and Galena Lodge.
Para Category
1-Grace Miller and Heather Galeotalanza
2-Ty Wiberg and Kenny Lacome
3-Lera Doederlein and Jordan Valentine
Elite Category
1-Sammy Smith and Matt Gelso
2-Luci Ludwig and Galen Grohusky
3-Anja Grover and Holden Archie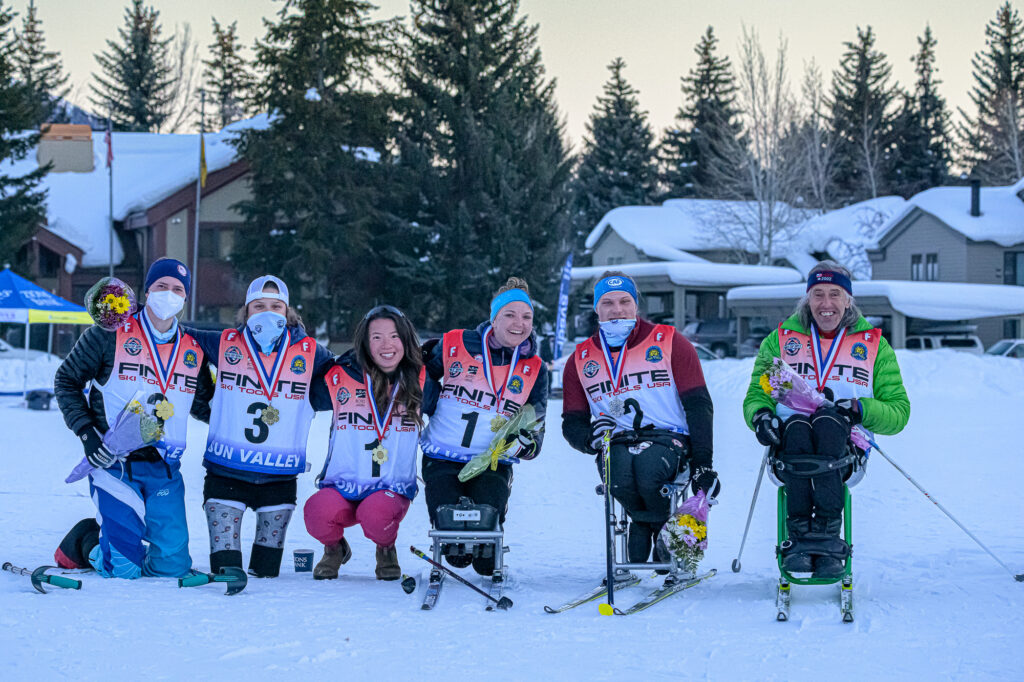 Zions Bank BMT Age Class/Wave results
Full Boulder Age Class Champion
Female
Class 2 – 14-17: 1-Ella Cuneo. 2-Brooklyn Liddell. 3-Rose Bicas-Dolgen.
Class 3 – 18-24: 1-Leah Lange. 2-Lily Johnson. 3-Sarah Beaulieu.
Class 4 – 25-29: 1-Felicia Gesior. 2-Sloan Storey. 3-Emily Williams.
Class 5 – 30-34: 1-Mary Rose. 2-Mary Davenport. 3-Rose Kjesbo.
Class 6 – 35-39: 1-Mikayla Maier. 2-Kellie Karim. 3-Laura Theis.
Class 7 – 40-44: 1-Regan Nelson. 2-Angie Kell. 3-Hannah Young.
Class 8 – 45-49: 1-Kristin DeHart. 2-Jessica Jensen. 3-Jana Repulski.
Class 9 – 50-54: 1-Liv Jensen. 2-Melisa Streubel. 3-Shannon Brockman.
Class 10 – 55-59: 1-Amy MacDonald. 2-Tricia Swartling. 3-Margaret Hepworth.
Class 11 – 60-64: 1-Elizabeth Youngman. 2-Kelly Allison. 3-Kim Kawaguchi.
Class 11 – 65-69: 1-Maria Madden. 2-Nicki Humphries. 3-EJ Harpham.
Class 12 – 70-74: 1-Linda McClatchy. 2-Nancy Fichter. 3-Susan Lisagor.
Class 13 – 75-79: 1-Dorsey Naylor.
Men
Class 1 – 13-Under: 1-Jaydon Crouch. 2-Charlie St. George. 3-Tristan Boloix
Class 2 – 14-17: 1-CJ Nygard. 2-Stratton Cunningham. 3-Evan Eby.
Class 3 – 18-24: 1-Christian Gostout. 2-James Roloff. 3-Bryce Hartman.
Class 4 – 25-29: 1-Jack Hegman. 2-Jake Adicoff. 3-Nick Power.
Class 5 – 30-34: 1-David Norris. 2-Tyler Kornfield 3-Matt Gelso.
Class 6 – 35-39: 1-Bob Baldwin. 2-Isaac Noyes. 3-Nicholas Martin.
Class 7 – 40-44: 1-Josh Korn. 2-Tom Nelson. 3-Brian Brush.
Class 8 – 45-49: 1-Joe Jensen. 2-Sam Krieg. 3-Tav Streit.
Class 9 – 50-54: 1-Richard Feldman. 2-Dave Sjogren. 3-Todd Hageman.
Class 10 – 55-59: 1-Ben Husaby. 2-Randy Anderson. 3-Doug Beaman.
Class 11 – 60-64: 1-Barry Makarewicz. 2-Kent Murdoch. 3-Jim Santa.
Class 12 – 65-69: 1-Steve Moore. 2-Jim McClatchy. 3-Steven Bowling.
Class 13 – 70-74: Bob Rosso. 2-David Christopherson. 3-Fran Wikstrom.
Class 14 – 75-79: 1-Del Pletcher. 2-Mark Donovan. 3-Ralph Comstock.
Full Boulder
Stand Male
1-Jake Adicoff
2-Ruslan Reiter
3-William Stewart
Charley Course Half Boulder Age Class Champions
Women
Class 1 – 12-Under: 1-Eavan Brown. 2- Dylan Buck. 3-Evie Loufek.
Class 2 – 13-19: 1-Audrey Orme. 2-Willow Henshall. 3-Lera Doederlein.
Class 3 – 20-29: 1-Dani Aravich. 2-Grace Miller. 3-Amy Kelly.
Class 4 – 30-39: 1-Aimee Kos0n. 2-Heather Galeotalanza. 3-Elizabeth Pedersen.
Class 5 – 40-49: 1-Stephanie Hancock. 2-:Lauryn Stevens. 3-Sarah Sundby.
Class 6 – 50-59: 1-Stacy Galinat. 2-Karoline Droege. 3-Kim Taylor.
Class 7 – 60-69: 1-Jill Eshman. 2-Laura Carter. 3-Corey Graham.
Class 8 – 70-79: 1-Donna Finegan. 2-Karen Baker. 3-Gloria Ploss.
Class 9 – 80-89: 1-Shauna Thoreson.
Half Boulder
Sit Female
1-Lera Doederlein
2-Heather Galeotalanza
3-Jordan Valentine
Half Boulder
Stand Female
1-Dani Aravich
2-Grace Miller
Men
Class 1 – 12-Under: 1-Connor Olsen. 2-Eli Arndt. 3-Duncan Fryberger.
Class 2 – 13-19: 1-McCallen Campbell. 2-Toby Klasner. 3-Solomon Arndt.
Class 3 – 20-29: 1- Eric Buras. 2-Ty Wiberg. 3-Grant Loomis.
Class 4 – 30-39: 1-Josh Sweeney. 2-Hunter Hagenbuch. 3-Kevin Cornell.
Class 5 – 40-49: 1-Bryan Price. 2-Greg VanDerMeulen. 3-Ryan Schmidt.
Class 6 – 50-59: 1-Greg Mallory. 2-Sean Halsted. 3-Doug Behse.
Class 7 – 60-69: 1-Mike Long. 2-Kenny LeCome. 3-Thomas Beauchaine.
Class 8 – 70-79: 1-Loren Cogdill. 2-Robert Disbrow. 3-Joe Strecker.
Class 9 – 80-89: 1-Sanm East. 2-Charlie Peterson. 3-Thomas Frey.
Charley's Class – 90+: 1-Charley French.
Half Boulder
Sit Male
1-Bryan Price
2-Josh Sweeney
3-Greg Mallory
Coed
Class 10 – Parent/Child 10-under combo: 1-Mikey Sinnott & Evie Loufek. 2-Keith & Asher Olsen. 3-Jed & Ryan Schmidt.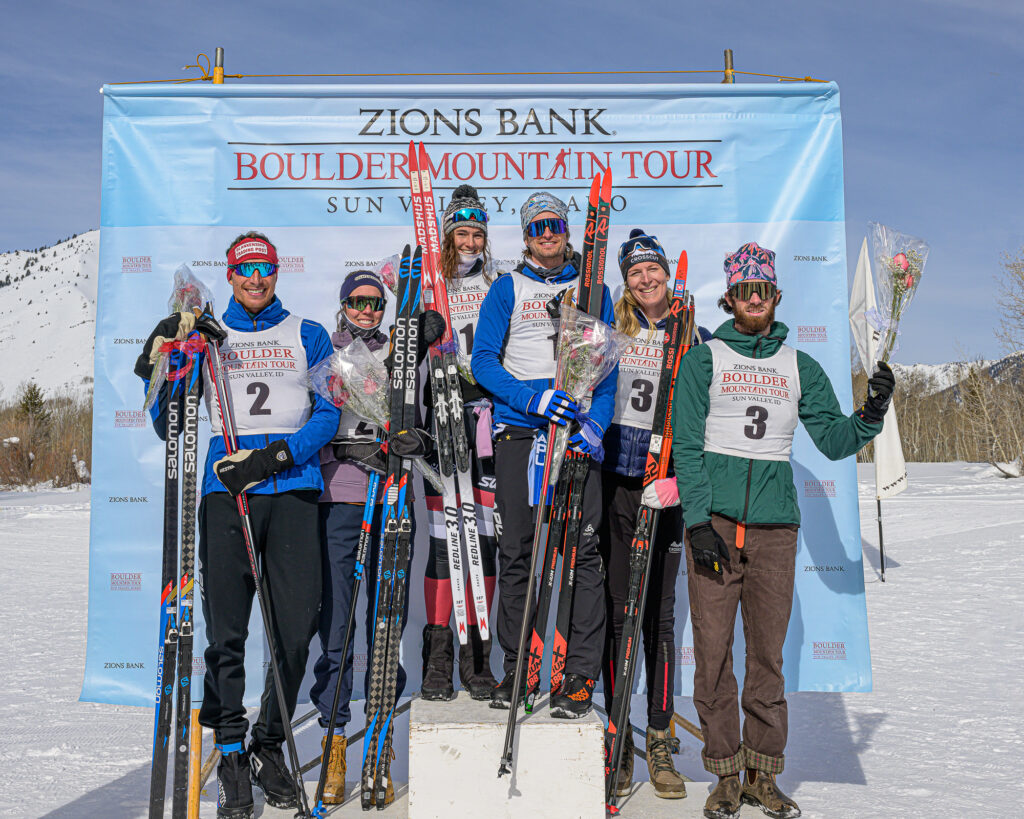 Thank you
The Boulder Mountain Tour and its Board of Directors; Tom Bowman, Matt Gelso, Svea Grover, Sue Hamilton, Jamie Lieberman, Paddy McIlvoy, Andy Munter, Don Nurge, Muffy Ritz, Mary Rose, and Bob Rosso, extend their deepest thanks to a tremendous group of sponsors, including title sponsor Zions Bank, Gold sponsors Blaine County Title, Sentinel Security, and Sue Engelmann of Berkshire Hathaway, Silver sponsors Atkinsons', Backwoods Mountain Sports, Clear Creek Disposal, Elephant's Perch, Power Engineers, Lloyd Construction, Lutz Rental, Nourish Me, Sun Valley Title, and Zenergy, and Bronze sponsors are Davis Embroidery, Jones-Grover of Engel Volkers, Lumi Experiences, Sawtooth Brewery, Sturtevants, Sun Valley Associates, Sun Valley Ketamine Clinic, and Vacasa.
We thank our industry sponsors, SWIX, Salomon, Enjoy Winter, Madshus, Rex Wax, Fischer, One Way, Rossignol, TOKO, Heed/Hammer, Lizzy's Fresh Coffee, and Methow Valley.
Event supporters include the Blaine County Recreation District, Challenged Athlete Foundation, Galena Lodge, Morgan's Fine Finishes, Sun Valley Company, Mountain Rides, Vamps, Dons, Cellar Pub, Sushi on Second, WR YMCA, Conrad Brothers Construction, Bluebird Solar, Lefty's Bar & Grill, Sawtooth Avalanche Center, Wrapcity, Rickshaw, Blaine County School District, Sun Valley Community School, Blaine County Sheriff's Office, Idaho State Police, Road Work Ahead, Sawtooth National Forest, WR Ham Radio, Galena Backcountry Ski Patrol, SVSEF, Sun Valley Suns Hockey, Wood River Pickleball Association, Girls on the Run, Ketchum Fire Department, Sun Valley Fire Department and Wood River St. Luke's.
The BMT is also exceedingly grateful to an enthusiastic and dedicated volunteer crew without whom this event would not take place.
– Jody Zarkos