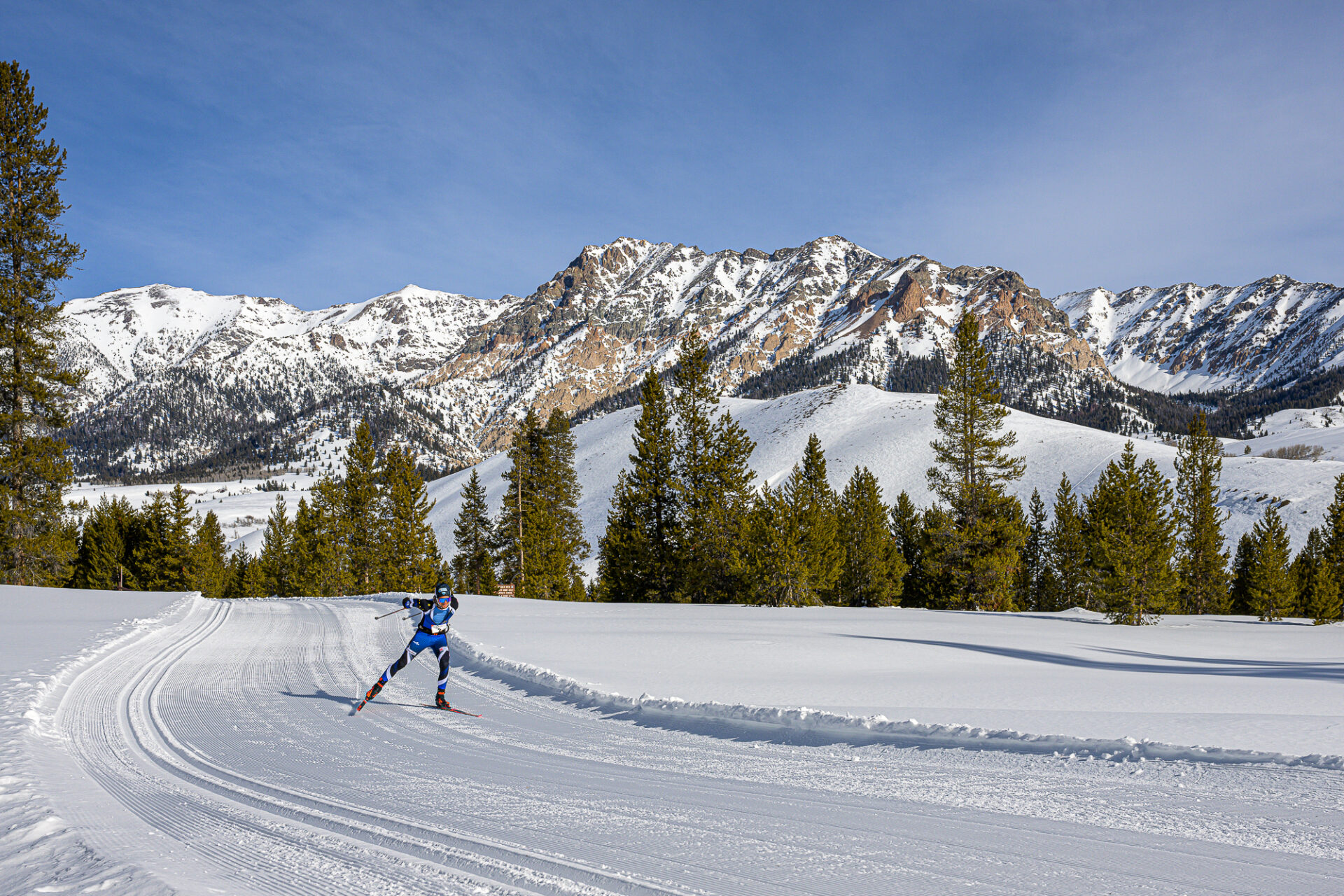 Race Details
50 Years in the Making!
The 50th annual Zions Bank Boulder Mountain Tour will take place in Ketchum, Idaho, on its traditional day, the first Saturday in February, falling in 2023 on February 4.
The premier cross-country race in the Western United States, the Tour is staged on the historic Harriman Trail located in the pristine Sawtooth National Forest Area. Race distances are 34 kilometers, the Full Boulder, and 15 kilometers, the Charley Course Half Boulder.
The field features World Cup-caliber racers to cross-country enthusiasts who embrace the "Tour" aspect of the event. All ages are welcome. Racers are separated by waves, including Elite Men, and Elite Women, seeded by previous race times in the BMT or comparable marathon distance races. There are seven waves in the Full Boulder. This year, the in-person race field will be capped at 800 skiers for the Full Boulder, and 200 skiers in the Half.
Entry fee includes official 2023 BMT SWIX race hat, 50th-anniversary souvenir racing bib, race bag, event program, sponsored goods, a raffle ticket, race shuttles, post-race and on-course food and beverages, awards party, plus the opportunity to win amazing raffle prizes from our amazing event sponsors. Due to a lengthy wait list, the BMT reversed its policy of not offering refunds for a window of time. With the race drawing near, goods purchased, contractors hired, and field set, we have returned to not offering refunds for any reason. If you cannot race, please let us know. Thank you for your understanding.
Annually, the BMT recognizes its fastest, oldest and youngest racers, on-course preem champions, wave winners, and Jon Engen Perpetual Awards for most significant time improvement (male/female) from one year to the next in the Full Boulder. Post-race, the BMT Block Party and Awards Bash will be from 5-7:30 p.m. at Ketchum Town Square. Food and beverage trucks, awards, music, and a good time will be on tap. Raffle prizes include skis, boots, poles, clothing, bags, and training aids from our generous sponsors and supporters. You must be present to win.
RACE SCHEDULE
Wave | Bib Color | Numbers | Start Time
#1 Elite Men | Gold | 1-75 | 10:00 a.m
#2 Elite Women | Purple | 100-150 | 10:02 a.m.
#3 Green | 200-340 | 10:10 a.m.
#4 Red | 400-550 | 10:14 a.m.
#5 Blue | 600-740 | 10:18 a.m.
#6 Yellow | 800-950 | 10:20 a.m.
#7 Orange | 1000-1140 | 10:22 a.m.
Half Boulder | Light Blue | 1200-1460 | 11:30 a.m., Baker Creek
Aid Station and Cut-Off Times
Aid Stations are hosted and manned by the good people at Sun Valley Community School, Sun Valley Suns Hockey Team, Wood River Pickleball, and Galena Lodge. We thoroughly appreciate these organizations' efforts and the critical role they play in the success of the Boulder.
Aid Station Locations, Distance from the start in Full/Half Boulder, Cut Off Time
#1 Prairie Creek 12k/NA, 12 p.m.
#2 Cathedral Pines 23k/3k, 1:30 p.m.
#3 Frostbite Flats 28k/8k, 2:30 p.m.
#4 SNRA 34k/15k, 3 p.m.