ONE GOOD TOUR DESERVES ANOTHER!
Registration for 2022 Zions Bank Boulder Mountain Tour Underway
The 49th annual Zions Bank Boulder Mountain Tour will take place in person in Ketchum, Idaho, on its traditional day, the first Saturday in February, falling in 2022 on February 5. Due to the popularity of last year's virtual event, "Our Boulder, Your Backyard," participants may opt to ski on a course of their choice between February 1-6 (except for the Harriman Trail, which will be closed to virtual skiers on February 5.)
Registration is now open at skireg.com/zions-bank-boulder-mountain-tour. All entrants who sign up between now and October 31 will be entered into a drawing for season Nordic ski passes courtesy of the good folks at Sun Valley Resort and the Blaine County Recreation District.
Early-bird race fees are $99 for adults and $69 for juniors (18-under) for the Full Boulder and $79 for adults, and $49 for juniors for the Half Boulder. Entry fee includes race bags, official 2022 BMT SWIX race hat, event program, sponsored goods, a raffle ticket, a 10-week training program for beginner, intermediate and advanced skiers, and the opportunity to win amazing prizes from event sponsors.
For the virtual event, participants will ski a 30k or 15k course of their choice in a convenient location. Trails will be suggested at various areas and resorts in regions throughout the United States. Times will be submitted by racers for posting on the BMT Leaderboard. Prizes will be awarded via livestream drawing on Monday, February 7.
The "Virtually Amazing BMT" cost is $49 for adults and $39 for juniors. This fee includes an official 2022 BMT race hat by SWIX, a raffle ticket, a BMT program, training plans, and shipping if needed.
The BMT annually recognizes its fastest, oldest and youngest racers, on-course preem champions, wave winners, and Jon Engen Perpetual Awards for most significant time improvement (male/female) from one year to the next in the Full Boulder.
Post-race, the BMT Block Party and Awards Bash will be from 5-7:30 p.m. at Ketchum Town Square. Food and beverage trucks, awards, music, and a good time will be on tap. Raffle prizes include skis, boots, poles, clothing, bags, and training aids from our generous sponsors and supporters. You must be present to win.
Additionally, the BMT honors nonprofit organizations via its "Ski It Forward" award. In 2021, the Boulder distributed $5,000 to 10 nonprofit organizations throughout the United States as voted on by participants, including The Advocates, Hunger Coalition, Meissner Nordic Team, Protect Our Winters, Sun Valley Ski Education Foundation, Habitat for Humanity, Bogus Basin Ski Team, Community Shares of Wisconsin, Idaho Food Bank, and Higher Ground.
Last year's winners were Best Costume – Team Breadcrumb, BMT Oldest – Nancy Fichter, BMT Youngest – Isla Sundby, Most BMT Swag – Kurt Dudley, Team Spirit – No Pressure, 15k Pacesetter – Lizzy Albin, 30k Pacesetter – Brian Elkins.
In 2022, award categories will be Pacesetter, Youngest and Oldest, and Best Costume. All winners will be drawn by raffle with the exception of the costume category – which will be recognized in both the in-person and virtual events.
The Boulder Mountain Tour is proud to announce the 15k Half Boulder has been named in honor of valley-and-event favorite Charley French. Participants can now ski the 15k Charley Course Half Boulder.
Born in St. Louis, Mo., on August 3, 1926, French enlisted in the US Army at age 17, serving as a machinist aboard the USS Cleveland in the South Pacific during World War II. He graduated from Long Beach State University with a degree in electrical engineering. In 1971 at the age of 45, he came to Ketchum for a job as an engineer and in product development with a new and growing company named Scott USA. One of his developments was shaping cycling's aerodynamic handlebar, which was strategically utilized by American Greg Lemond in his 1989 Tour de France win.
A notable athlete himself, French is a devoted skier, cyclist, and triathlete with numerous BMT age-class championships under his belt.
"I think I have done all the Boulders but four," Charley said.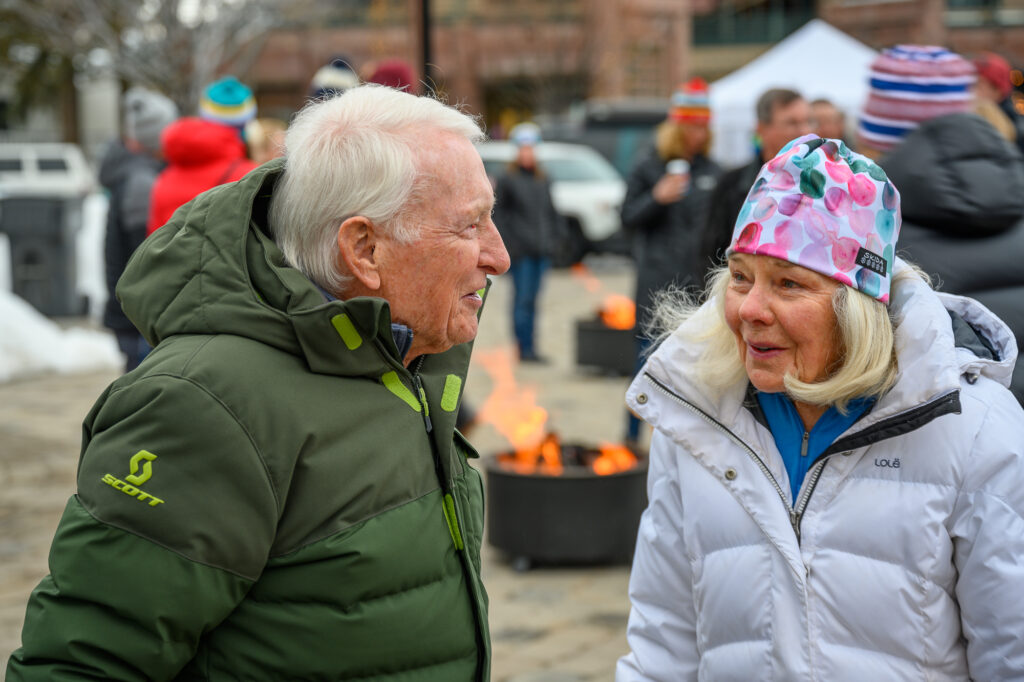 Event sponsorships are available. Details? Please contact race director Jody Zarkos at bouldermountaintour@gmail.comor 208.720.1810.