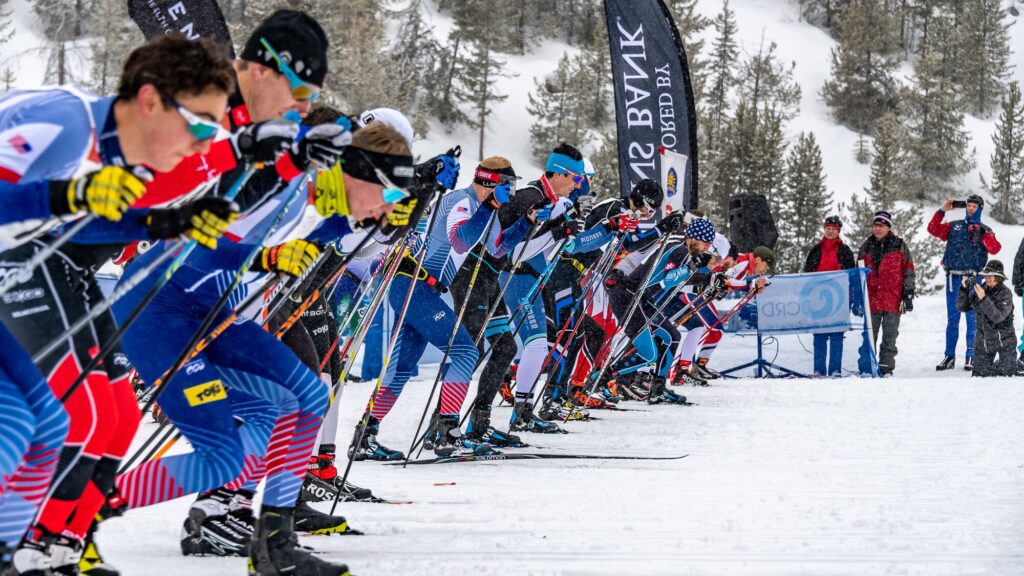 Wave Start Times
All waves will start on time. Be ready when the horn sounds!  You must start in your assigned wave or face automatic disqualification.
Race bibs are color coded on the shoulder according to wave
| Waves | Bib Bar Color | Start Time | Field |
| --- | --- | --- | --- |
| 1 | Red | 10:00 a.m. | Elite Men |
| 2 | Red | 10:02 a.m. | Elite Women |
| 3 | Yellow | 10:10 a.m. | |
| 4 | Black | 10:14 a.m. | |
| 5 | Blue | 10:18 a.m. | |
| 6 | Green | 10:20 a.m. | |
| 7 | Purple | 10:22 a.m. | |
| 9 | Orange | 10:24 a.m. | |
| Half Boulder | Yellow Bibs | 11:30 a.m. | |
Timing Chips
All racers receive a timing chip at packet pick-up. Your chip is assigned to your bib number.
Wave start times are pre-entered in the timing company data-base according to wave/bib assignment. If you start in the wrong wave you will be disqualified.
Timing chips are non-transferable. Avoid mixing yours with a friend or family member.
Timing chips are to be worn on your ankle, just above your boot top. Affix the ankle bracelet at breakfast  and continue to wear it until you reach the collection point after crossing the finish line.
Volunteers will remove your chip for you, please thank them!
There is a $100 replacement fee for not returning the chip at the end of the race. IF YOU DROP OUT OF THE RACE, PLEASE RETURN YOUR CHIP TO THE FINISH LINE. If you're unable to return it to the finish, please call (208) 720-1810 to make other arrangements, or put it in a padded envelope and mail it to:
Boulder Mountain Tour Ltd.
P.O. Box 5868
Ketchum, Idaho, 83340
Lane Assignments
Start lanes are assigned for Elite waves only.
There are no lane assignments for waves 3 through 7.
Access to the start area for waves 3 through 7 will be restricted till 5 minutes before the start of the Elite men.
Tracks are set for the first 100 meters. All skiers must stay in a track until it expires and skating is permitted.
Elite Check-in
Elite racers will be directed to their lane assignment upon entering the start area. Lane assignments match the bib number. Please allow yourself enough time.
Extra Clothing and Race bags
The BMT souvenir race bag should be used for warm up and post-race clothing.
All bags, including ski bags, will be transported from the start to the finish by the race organization.
Everything must be clearly marked with name and bib number.
Before heading to the start line, take a deep breath, look around, make sure all of your gear is in your bag, then zip it securely closed. We cannot be responsible for loose items.
Cell phones, wallets and/or valuables should not be left in your race bag.
Place your bag under the sign designating your wave at the start area. At the finish, you will easily be able to locate your gear.
Aid Stations & Cut Off Times
| Station and km | Location Name | Cut-off Time |
| --- | --- | --- |
| Aid Station #1 @ 12km | Prairie Creek | 12:00 noon |
| Aid Station #2 @ 23km | Cathedral Pines | 1:30 pm |
| Aid Station #3 @ 28km | Frostbite Flats | 2:30 pm |
| Finish | SNRA | 4:00 pm |
The Galena Backcountry Ski Patrol (GBSP) is a highly trained response team trained in snow travel and rescue, assisting the Ketchum Fire District and Blaine County Search & Rescue. Team members are present at all aid stations and along the BMT course.
If you do not reach an aid station by cut off time the GBSP may ask for your bib if, after a thorough assessment, your health and safety are at risk. Transportation to the Finish area will be provided for you.
The Finish Area will be taken down and support crew will be off duty at 4:00 pm. The last bus to Ketchum from the Finish leaves at 4 p.m.
Staying on the course beyond 4 p.m. is at your own risk.
EXTREMELY IMPORTANT!
If you encounter a skier who is injured or in need of aid, PLEASE notify the closest aid station volunteer and/or GALENA BACKCOUNTRY SKI PATROL.
Finish Area
You will find soup, bread, hot drinks, and cookies, provided by Galena Lodge and Bigwood Bread and staffed by Girls on the Run volunteers, for all racers at the Finish area. A warming tent will be available should the weather be unfavorable.
Lost and Found
If you lose an item every effort will be made to get it back to you. Look for the Lost and Found bin in the finish area. Any items not claimed will be taken to the Awards Ceremony. Remaining items will be available at The Elephants Perch in Ketchum for approximately one week. Do not assume that items left on the course will be collected.