You could not have scripted a more perfect day for the 50th annual Zions Bank Boulder Mountain Tour. The sky was blue, the sun was shining, and the snow was plentiful as 967 skiers made their way down the Harriman Trail on Saturday.
Making the quickest trip from start to finish was 24-year-old Peter Wolter of Hailey, who became the 14th men's hometown champion in race history in a winning time of 1:17.55. The Sun Valley Ski Education Foundation Gold Team member came down the stretch all alone, having separated from the pack at Prairie Creek with 20km to go.
"I carried my own feeds to avoid a mishap at an aid station, but it was also a tactical maneuver so I could take my feed before Prairie and then gap the field who decided to take a feed there," Wolter said.
"It's a classic move. Someone goes over for a feed and is not paying attention. Peter was second in line at the time," said Rick Kapala.
"The 5km after Prairie probably has the most climbing, so I knew that would be the only place to make a gap that would hold. Jack Hegman made a valiant effort to close that gap when I first made it, but I was fortunate to keep him at bay. The next 10k was hard; I was tired from my push, and I knew that the chase pack had a target on my back.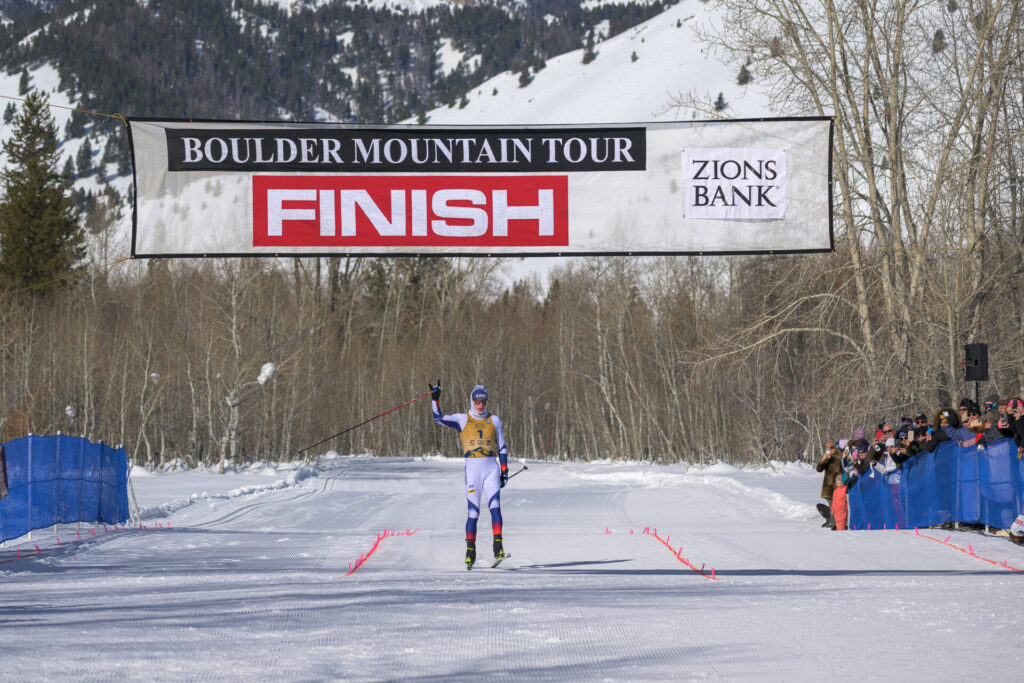 "Skiing in solo to the finish was awesome. I've been fortunate to have a few breakaway races throughout my career, and those are the ones I'll never forget," Wolter said.
Chris Mallory, head coach of the SVSEF Gold Team, remarked, "Peter had the strategy to try and go at Prairie Creek to break things up and not leave it to a sprint finish, and he executed well. It made for a hard, lonely ski down the Harriman, but what a day it was to be out ski racing."
Mallory added, "I think the last time he raced the BMT, he was in middle school and had the biggest blow-up ever, so this was much improved."
Fresh off a pair of World Cup starts in France, Wolter was carrying a lot of confidence into the hometown race. Still, he took nothing for granted, even after defending champion David Norris of Steamboat Springs, Colo., pulled out due to work commitments.
"Racing the World Cup was a big boost of confidence for my skiing in general, but in regards to this specific BMT, I was actually pretty nervous come race day," Wolter said. . "There was some external and internal pressure that I should be the obvious winner. In full transparency, the race ended up being substantially harder than expected; that lead pack of dudes, although retired from racing, still have some dangerous fitness."
The next three men came across in a flurry, with Jack Hegman nipping Nick Power of Bozeman; 1:18.43.8 to 1:18.44.6 and 2018 BMT champion Matt Gelso in fourth in1:18:46.4. Both Hegman and Gelso are former skiers with the SVSEF Gold Team, a program for elite postgraduate skiers. Hegman boosted his 2022 finish by one spot and doubled his BMT winnings from $500 to $1000. Wolter earned $2500 in prize money for the win.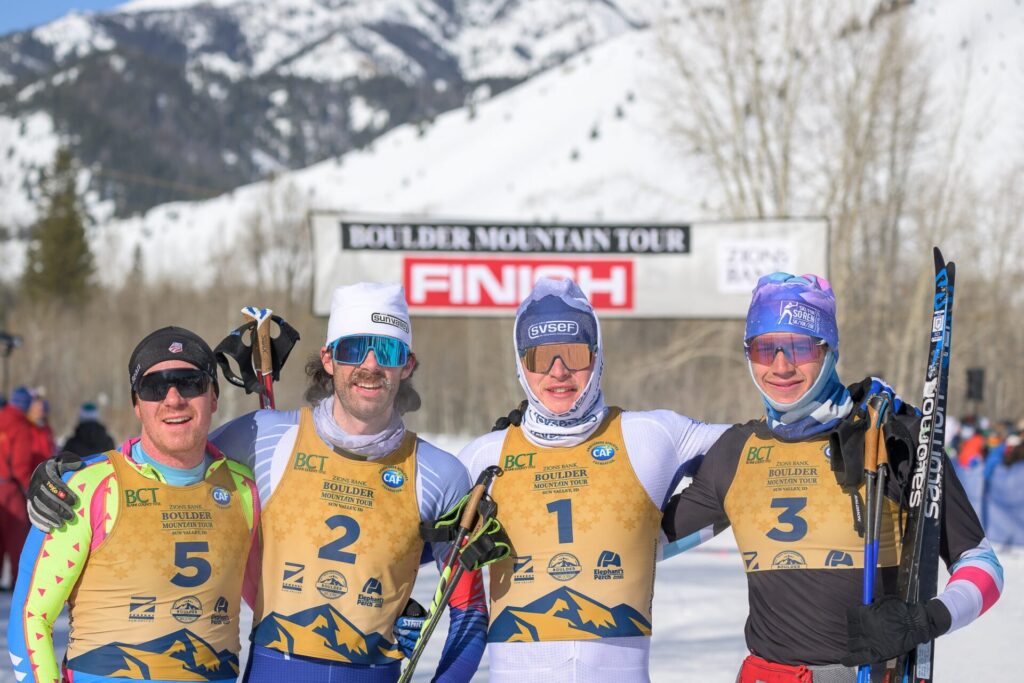 The women's finish was 180 degrees from the men's, with Hannah Rudd, 24, of the Bridger Ski Foundation Pro Team with a razor-thin victory over teammate Erika Flowers-Newell and Annika Landis of Craftsbury. Rudd crossed the line in 1:26.27.4. It took the race jury several minutes and a video review to determine second place between Flowers-Newell and Landis, whose timing chips both showed 1:26:28.4. Mariah Bredal, coach Andy Newell's third skier in the field, was in serious contention for a podium spot in 1:26:28.5. The top three women all receive equal prize money as the men.
Rudd had this to say about her race. "As a first-time BMT racer it exceeded my expectations. It was a gorgeous day and the race trail was in perfect condition which made for one of the most enjoyable racing experiences I've had in a long time. I was impressed by the positive vibe of everyone in the start area and the rich history of the event. Sun Valley has so much skiing history it's incredible to be a part of it and I hope to make the BMT a recurring event for the BSF Pro Team and I."
Landis, who, like Wolter, grew up skiing in the SVSEF program, had this to say about her race.
"The last 500m were a thrill. Four strong women racing for three podium spots is a little stressful, and the tension had been building as the kilometers ticked by. I ended up leading a lot of the last 6km, which tactically was not very smart, but just being in the position to sprint for the win was exciting to me. I was skiing with everything I had, trying desperately not to fall, and hoping that luck would be on my side. Waiting for the photo finish to be decided was suspenseful, but I feel so lucky to have been on the right side, and I feel proud and grateful to the three BSF women who pushed me!"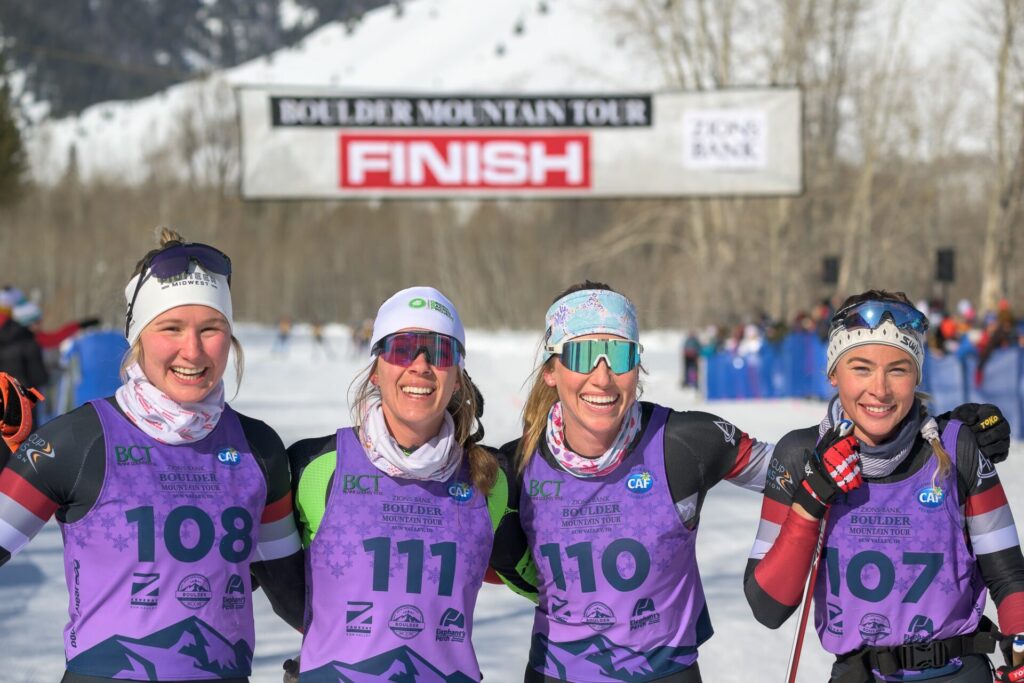 Annika, who skied in her first BMT in 2008 as a nine-year-old, reflected on completing another trip down the Harriman.
"Win or lose, I am always blown away by the energy that the BMT excites in the community, and racing at home is always so meaningful to me. It reminds me where I came from and immerses me fully in the environment that made me love skiing in the first place. That is more priceless to me than any win," she said.
The energy of race day was electric and palpable. Kapala addressed the phenomenon at the start of Wave 3 and paid homage to race honoree Bob Rosso.
"It just goes to show what can happen when a few people get an idea and get together. It is pretty amazing. This little idea grows into an amazing thing – and it is because of that man right there we are here today," said Kapala while pointing at Rosso.
"It is only looking back through the retrospective of 50 years that you see that the Boulder is an anchor point for all this amazing stuff that has happened in our valley, a community created around cross-country skiing and outdoor recreation. We don't really have the Harriman Trail without the BMT with Galena Lodge at the start. Although the founders weren't thinking of it at the time when you have a good idea, great stuff spins out of it," he added.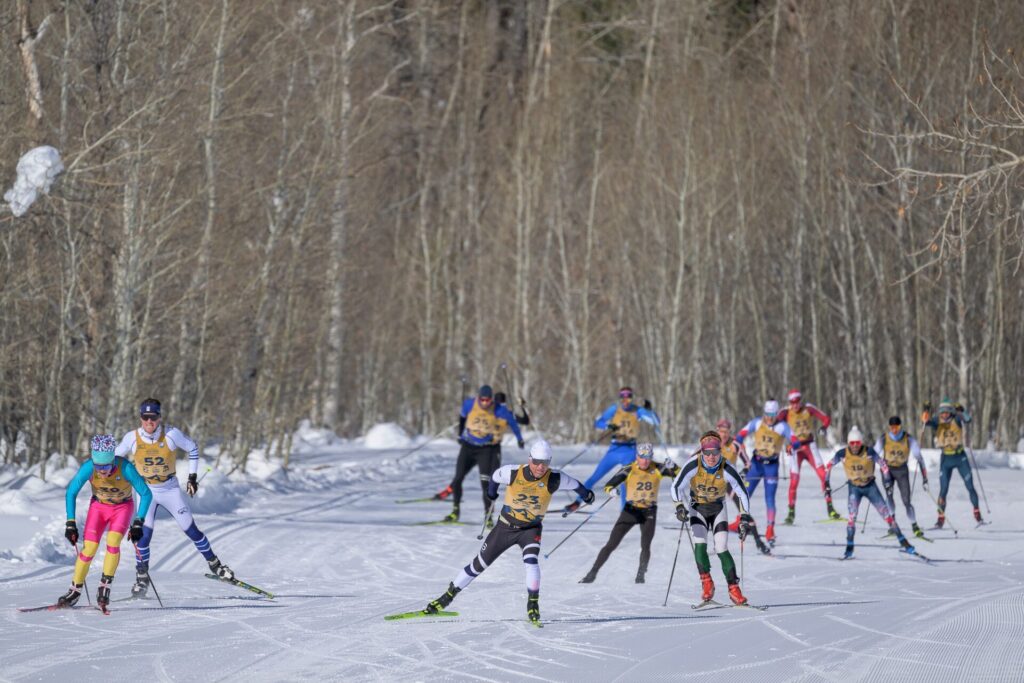 Full Boulder wave winners were Dave Bergart and Lucy Conklin in Wave 3, Andrew Dougherty and Julia Pierson in Wave 4, Mathieu Signoretty and Abelyn Broughton in Wave 5, Dermott McHugh and Dana Tower in Wave 6, and Riley Hopeman and Gillian Wilcox in Wave 7.
Full Boulder age class winners (youngest to eldest) were Bailey Kurtz, Zoe Liberatore, Alex Larson, Evonna West, Wolter, Rudd, Hegman, Landis, Gelso, Flowers, Newell, Sarah Armstrong, Kurt Wolf, Angie Kell, Joe Jensen, Erin Zell, Todd Hegeman, Brooke Hovey, Duncan Douglas, Kim Taylor, Barry Makarewicz, Roxanne Toly, Steve Moore, Muffy Ritz, Peter Harris, Carol Mutzel, Rosso, Dagmar Eriksson, Andy Andrews and Dorsey Naylor.
Lucy Conklin and Alex Homaechevarria earned Jon Engen honors as the two skiers with the most significant time improvement by percentage from 2022 to '23.
With 25 racers, the Boulder had the largest field of para skiers, with six-time US Paralympian Aaron Pike winning the Full Boulder in 1:46.35. Josh Sweeney and Greg Mallory were second and third in the sitting category. Erik Schultz of Hailey was fifth. For the women, it was Kendall Gretsch and Heather Galeotalanza in first and second place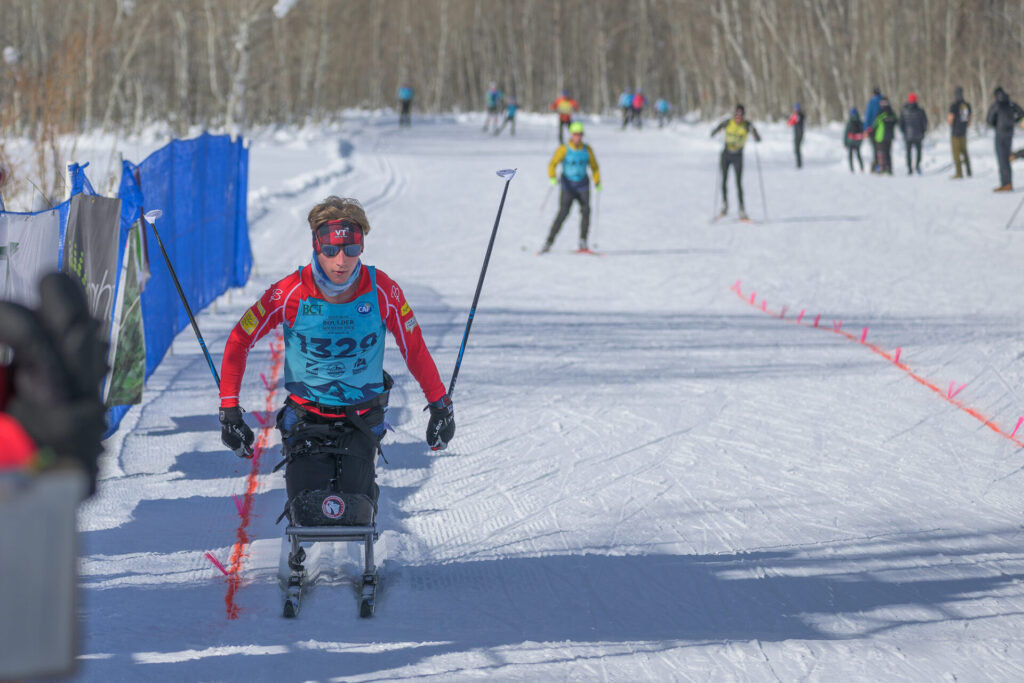 Ruslan Reiter of Bozeman clocked a 1:26.12 to claim the men's standing category over Willie Stewart. Dani Aravich (1:37.07) and Grace Miller (1:49.21) went one-two in the women's standing class.
Title winners in the Charley Course Half Boulder were Ty Wiberg, Erin Martin (sitting), Andre Szucs, and Sarah Pedersen (standing). 12-year-old Noah Eitel and 60-year-old Patti Bellan were the fastest skiers overall in the Half.
Age class champions in the Half Boulder were Eitel, Sydney Nelson, Duncan Fryberger, Lera Doederlein, Ty Wiberg, Greta Olsen, Scott Traver, Kimberley Johnson, Ken Hahn, Joanna Olsen, Mark Davidson, Marcia Witte, David Joss, Patti Bellan, Bill Leyrer, Donna Finegan, Tullio Cellano, Grace Dyck, and Charley French, who at 97, was the most veteran racer in the field.
The BMT paid homage to Bob Rosso at the awards ceremony in front of an adoring and appreciative crowd.
"What I love about the Boulder is the power of the race," Bob said. "You have racers from all over coming together to share this experience. It's really amazing.
"I love you all."
In honor of Bob's indelible legacy in the valley and love of skiing, the Boulder Mountain Tour this year as part of our Ski It Forward initiative is establishing the Bob Rosso Scholarship Fund. This merit award will be given in Bob's name on an annual basis starting in 2023 to two SVSEF prep team athletes who display an enthusiasm for life, regard for people, and love of the outdoors.
"There are individuals you feel lucky to exist with at the same time; you learn from them, lean on them, laugh with them and love them. And that is Bob," Race Director Jody Zarkos said during Bob's tribute.
"I know I speak for all of us when I say, thank you."
For complete race results, please click on this link.