2020 ZIONS BANK BOULDER MOUNTAIN TOUR A GRAND SLAM
The sun was shining on the 2020 Zions Bank Boulder Mountain Tour and Sun Valley Nordic Festival – literally and figuratively.
The 47th annual race marked the feel-good edition of the BMT. Not only was the weather flawless, adding to a marked cheerfulness by all involved, locals had reason to cheer as the race saw its first local champion in 12 years and the youngest ever race winner.
Johnny Hagenbuch, 19, a senior at Sun Valley Community School and member of the U.S. Ski Development Team, backed up his potential in the men's elite field deemed to "be the deepest in the history of the race" by Rick Kapala, SVSEF cross country program director.
Emerging from the trees in front, Hagenbuch built a strong enough of a lead on the homestretch to turn around and look at his pursuers. He crossed the finish line – alone – in 1:17.07, almost one second ahead of Jordheim and Bie, who were separated by 1/100th of a second. The pair, along with women's champion, Guro Jordheim, are coached by Miles Havlik, a former racer on the Sun Valley Ski Education Foundation Gold Team and two-time NCAA National Champion at Utah.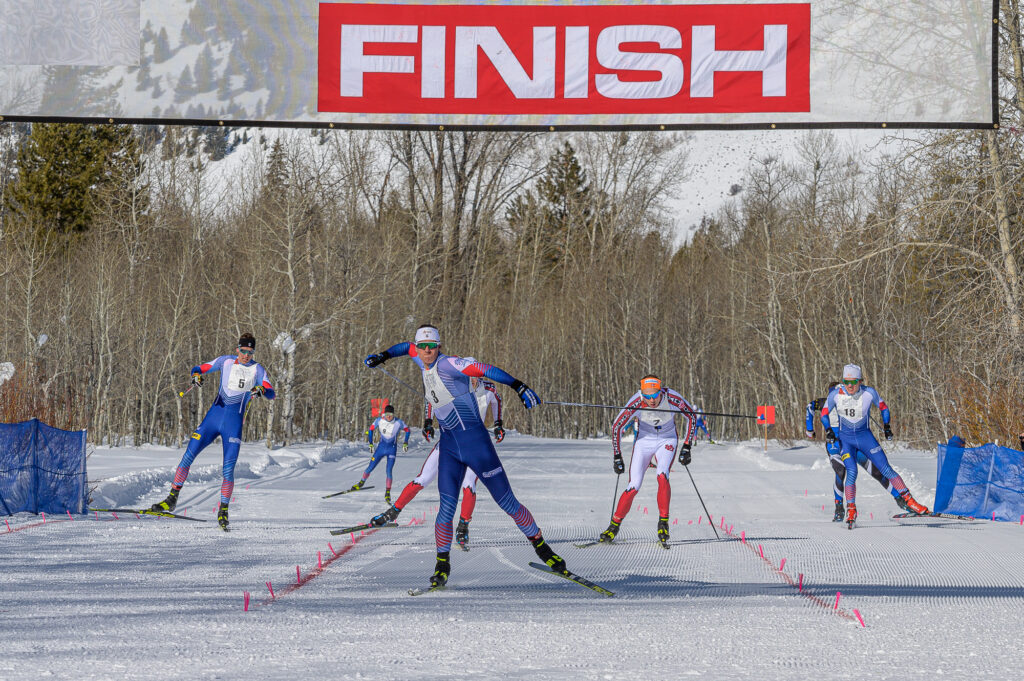 Hagenbuch's victory marked the first win by a skier who grew up in the valley in 12 years. Mikey Sinnott claimed the Harriman Trail crown in 2008.
The women's race came down to the wire, with Jordheim narrowly overtaking 2019 runner-up Katie Feldman at the finish to win in 1:25.50.3. Feldman crossed the line in 1:25.50.5, and 2019 champion Erika Flowers was a close third in 1:25.50.9.
Jordheim, 23, a six-time All American, is competing in her third NCAA Championships this week in Bozeman, Montana. She is the top-seeded skier in the women's 5k classic and 15k skate in the West Region. Havlik's Utes won the 2019 NCAA banner in his first season as head coach, and with six veteran skiers, including the Jordheim twins and Bie, competing are looking solid once again.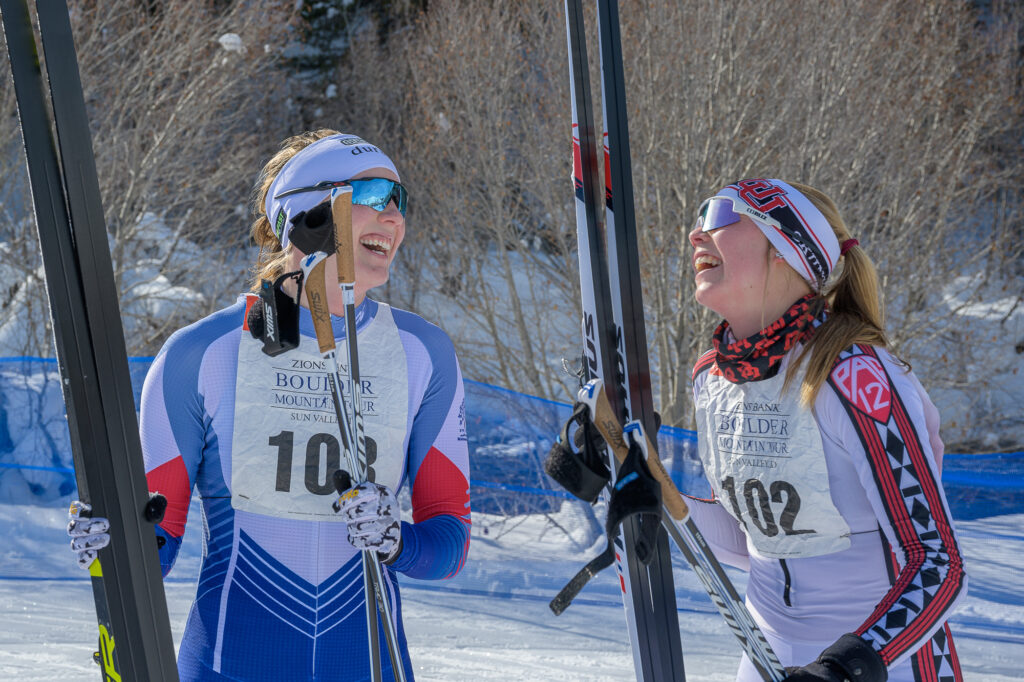 Cash prizes totaled $8000 in the elite class with $2,500 going to the race winners, $1000 to second place and $500 to third place, along with flowers and BMT special-edition cookies. There is no disparity between men and women regarding cash prizes awarded.
Age class champions in the Full Boulder were Ella McNeeley, Sarah Kilroy, Jordheim, Mary Rose, Flowers, Kellie Carim, Kathryn Roberts, Brooke Hovey, Barbara Kreisle, Kim Kawaguchi, Elizabeth Youngman, Janet Conway, Linda McClatchy, Andrew Crouch, Jackson Monz, Hagenbuch, Bolger, Gelso, Joshua Korn, Sam Kreig, Joe Jensen, John Bauer, Barry Makarewicz, Kris Thoreson, Steve Moore, Peter Darienzo, Del Pletcher, and Steve Swanson.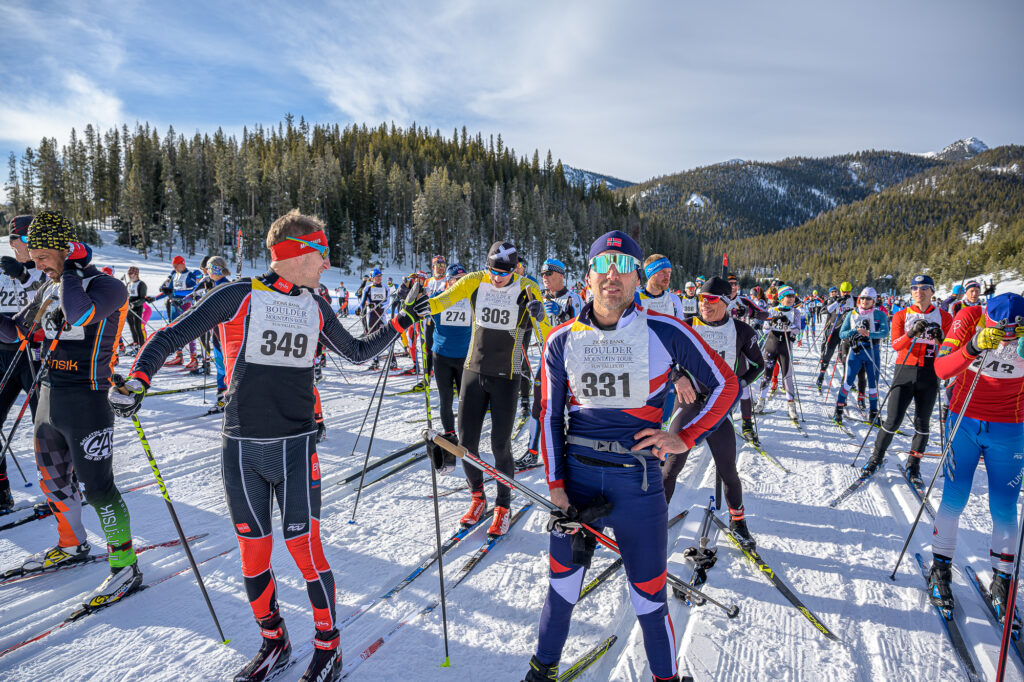 Wave class winners (3-7) took home $75 cash courtesy of Zenergy Health Club and Spa. Champions were Sloan Storey, Eloise Zimbelman, Maria Gesior, Naomi Goldberg, and Justin Calvin for the women, and James Roloff, Will Sladek, Ruslan Reiter, Jeff Aken and Clint Mortley for the men. Goldberg and Calvin won their waves outright.
The Jon Engen Memorial Award to the skiers who improve their times by the most significant percentage year-over went to Hannah Young (17.5%) and Brad St. Clair (31.7%). Jon's wife, Darlene Young, was on hand to give out the eponymous belt buckles hand-crafted by Foster Weld of Boise.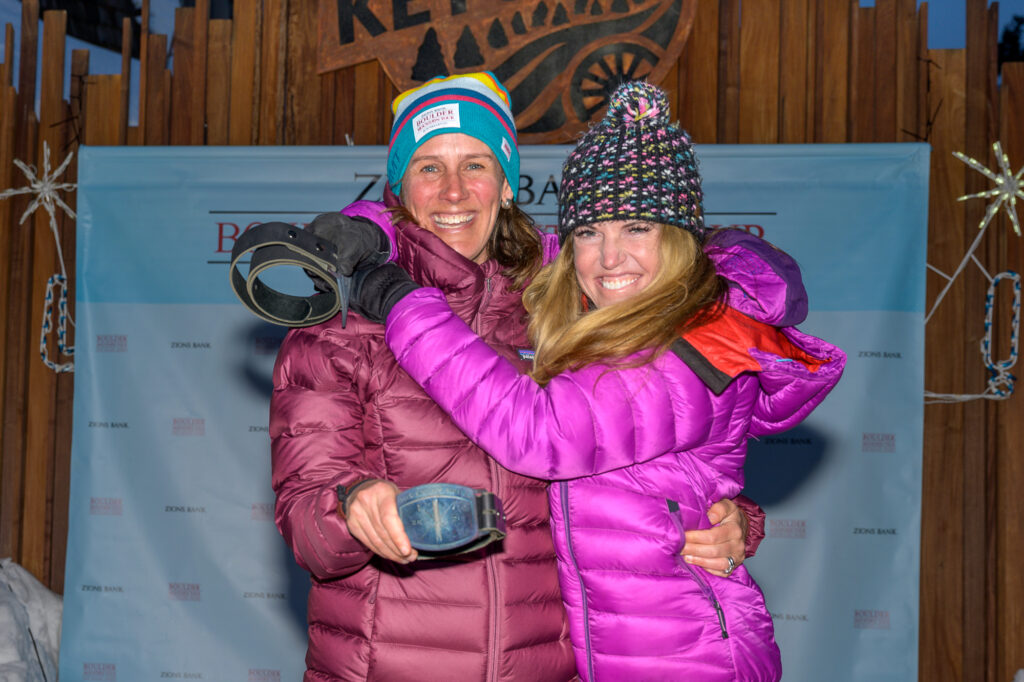 A new award this year, Ski It Forward, is given to the nonprofit organization of the winning team's choice. "Bjorn to Adventure" with Hagenbuch, Bolger, and Bjornsen garnered $1,000 for The Hunger Coalition, who builds healthy community through access to good food and addresses the root causes of food insecurity in Blaine County.
"There are so many amazing nonprofit organizations on which our community is built and depend. We are happy to contribute to their wonderful work and be a good partner in our quest to create a healthy and happy community," Jody Zarkos, BMT executive director, remarked.
Youth was served in the 15k Half Boulder, as overall titles went to 13-year-old Reed Wuepper of Bend, Oregon, in 38 minutes and 15 seconds and 12-year-old Cora Scott of Hailey in 43 minutes and 28 seconds. The pair finished first and sixth overall, respectively. The winning parent/child team was McCallen and Brady Campbell of Hailey.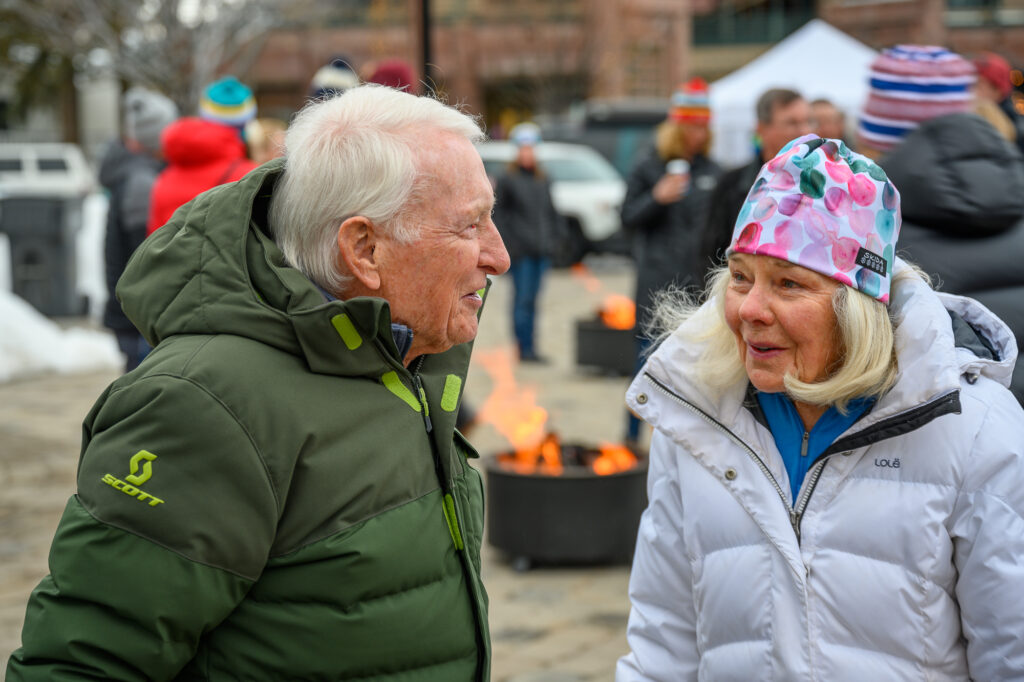 This year's race attracted 877 (676/201) participants, with 587 racers finishing the Full Boulder and 174 crossing the line in the Half.
As always, the Zions Bank Boulder Mountain Tour received tremendous support from its partners in the community and nationwide. Zions Bank was the title sponsor for the sixth consecutive year. Gold sponsors were Sentinel Security, Sue Engelmann of Berkshire Hathaway HomeServices, and Blaine County Title.
Silver sponsorships were provided by SWIX, Limelight Hotel, Backwoods Mountain Sports, Elephant's Perch, Atkinsons' Market, Power Engineers, Voće Tea, Lutz Rental, Zenergy, Blaine County Recreation District, Galena Lodge, Davis Embroidery, Rossignol, Madshus, Rex Wax, Salomon, Hammer/Heed, TOKO.
Bronze sponsors were Sturtevants, Jones Grover Team of Engel & Vølkers, Clear Creek Disposal, Sun Valley Associates, Sun Valley Garden Center, Lizzy's Fresh Coffee, Sun Valley Ski Education Foundation, McCall Remastered, Boulder Nordic Sport, Fischer, Bliz/Swenor/START, and Enjoy Winter.
Race supporters include West Yellowstone Montana, Sun Valley Community School and Ski Academy, Morgan's Fine Finishes, Lloyd Construction, Mason Family Restaurants, VAMPS, DONS, Conrad Brothers Construction, Perry's Restaurant, Wrapcity, Nourish Me, Sushi on Second, The Cellar, Sawtooth Avalanche Center, Lefty's Bar & Grill, Glow, Wood River YMCA, Pisten Bully's, Mountain Rides, Wood River St. Luke's, U.S. Forest Service, and Bluebird Solar. The NordicTown USA Sprint purse was provided by board members Muffy Ritz and John Seiller.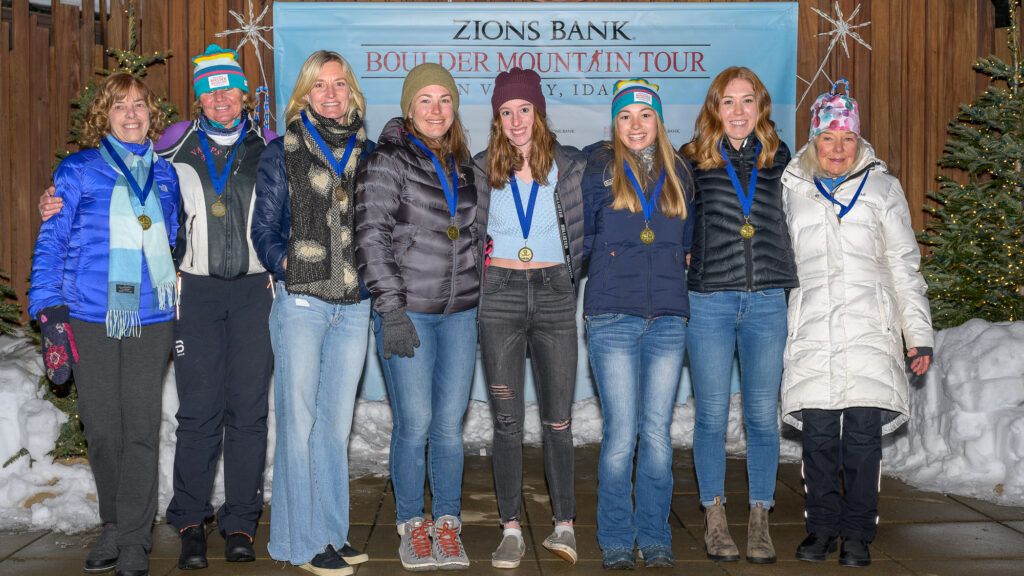 The BMT would like to extend its gratitude to Sharon Pyle of Atkinsons for her help in procuring race-bag items and the following amazing companies who made very generous donations to the delight of our racers: Pro Bars, Nuun Hydration, Kate's Real Food, Betty Lou's, BoBo's, Nature's Path, Wolo Bars, Honey Stinger, NibMor, Raw Rev Bars, Dandies, and Backcountry Bars.
Jack Weekes created the official poster and artwork for the custom-made socks of the 2020 BMT. A limited number of both are available for purchase at bouldermountaintour@gmail.com. Nils Ribi was the official race photographer. Program contributors include Emily Williams, Mikey Sinnott, Annie Pokorny, Don Shepler, Mary Rose, Matt Gelso and John Reuter. Design by Judy Stolzfus of Judy's Design House.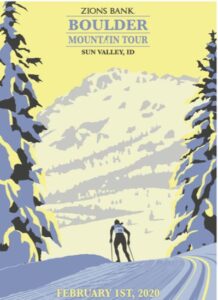 We would like to acknowledge the City of Ketchum for co-hosting our BMT Block Party and Awards Bash, as well as local businesses and sponsors who provided food and drink; The Cellar Pub, Leroy's, Voće Tea, Wood River Sustainability Center, La Parilla, Sawtooth Brewery, and Zions Bank.
Race stalwarts include our wonderful aid station sponsors, Galena Lodge, Sun Valley Suns, Sun Valley Community School, Sturtevants, and Girls on the Run spearheaded by Tom Bowman. We would also like to extend our thanks to the road crew with Bryce Turzian and friends. Andy Munter for buses and biffies. John Seiller ran the start for the Full Boulder and Kelley Yeates and Family the Half Boulder start. Prime Time Timing of Wisconsin expertly provided race timing supported by Bobby Noyes, safety measures by the Galena Backcountry Ski Patrol and emergency services by the Ketchum and Sun Valley fire departments, Idaho Transportation Department, Idaho State Police, and Wood River Ham Radio. In acknowledgment of the local ham radio club's years of service, the BMT donated $500 to the organization in honor of Joe Yelda. The course grooming crew headed up by Eric Rector of the BCRD did an excellent job, and the course held strong all day long.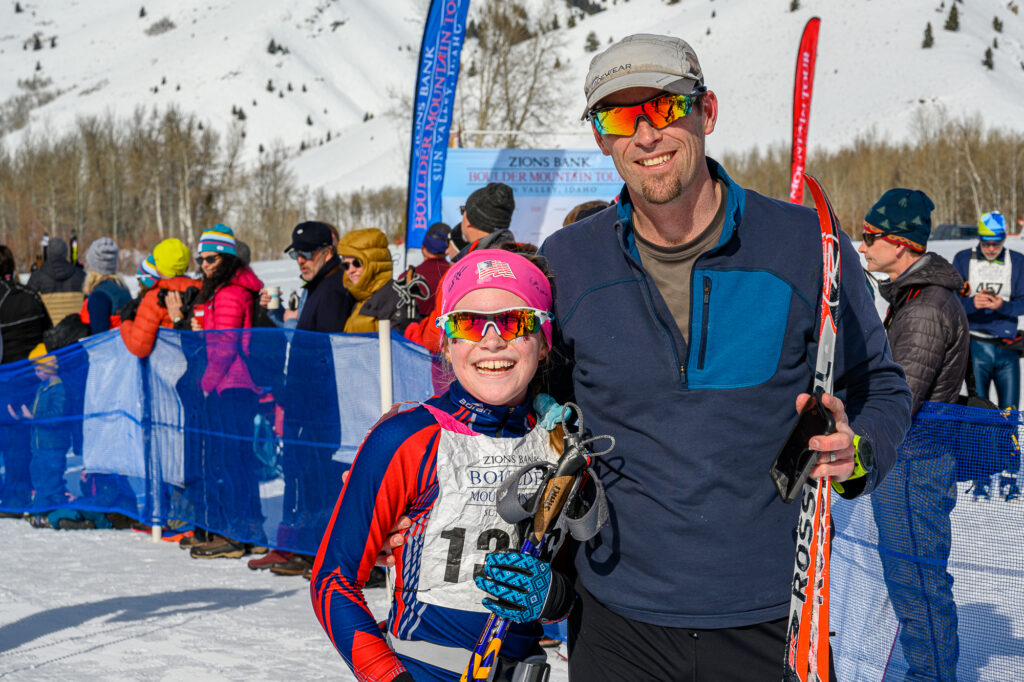 The board of directors of the BMT would also like to extend its sincere thanks to the 260 committed volunteers who absolutely make the race what it is year after year. This race would not happen without your dedication, energy, and enthusiasm. Volunteer heads include Ted Angle, Jenny Busdon, Roberta Heinrich, Travis Jones, Rick Kapala, Jim Keating, Eric Rector, Bobby Noyes, Ashton Wilson, John Reuter, Nils Ribi, Gay Riley, Muffy Ritz, Bob Rosso, Jim Keller, James Lieberman, Frank Rowland, Andy Munter, Don Shepler, Pete Stephenson, Mike Wolter, Bryce Turzian, Tom Bowman, Joe Yelda, Mat Hall, Kelley Yeates, Sue Hamilton, Ivana Radlova, Paddy McIlvoy and Martha Pendl.