BREAKING DOWN THE BOULDER: INSIGHTS FROM A BMT CHAMP
How does your BMT story begin? It may end in a sore, tired, and (hopefully) sunburned heap on the snow, swearing off XC ski racing forever. Not to worry, this affliction will heal rapidly once you start trash talking to your friends how you will beat them in the BMT 2020…But what started your BMT career? Are you a glutton for punishment? Did you lose a bet? Maybe you are here to show everyone that an old dog can learn new tricks? I'm sure some of you got suckered in with the, "it's all downhill" line. If so, I encourage you to strap on your 140 flex boots, lock your heels down, and head to the start line…
For those brave enough to tackle this 1,000 foot descent (lol, it's all downhill, I promise) on XC gear, here's six phases of the race to consider. DISCLAIMER: I was a "professional athlete" (making an NFL salary) for 15 years so spend the next three minutes of your life reading this at your own risk. I will not be held responsible for wasting your time nor giving bad advice…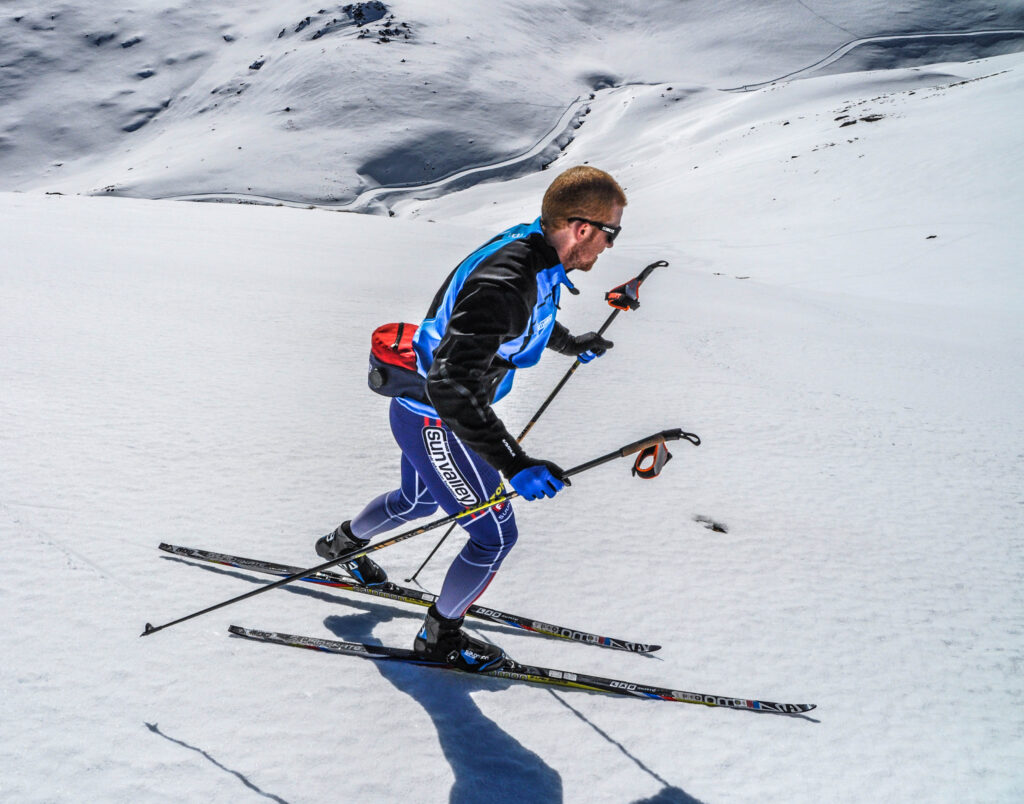 1) Elbows and Ski Poles: The Start
A great marathon race starts as fast and hard as you can to build an early lead. As you've seen in the Tour De France, that usually works SUPER well. The start is important, but you've got 34 km to 'race'; spend the start defending your poles and enjoying the gorgeous views – there's plenty of time to make yourself tired later. At the starting line, mind the short bald man with the bullhorn, he is amusing (especially to himself) and will warn the stragglers of the men's elite field to allow the elite women who catch them to pass with ease…These ladies have already beaten you by two minutes, let it go!
2) Do Not Color Outside The Lines: The Road Crossing
A kilometer or so into the race is a beautiful strip of pearly white to carry you across Highway 75. I will spare you the "stone grinding" jokes about what happens if you miss this white ribbon (you can't). Note, this is a great place to knockout your competition, as a small nudge can send your competitor back to 'go' without collecting $200 dollars (actually, spending a lot more than $200 on a new pair of skis). In all seriousness, be light on your feet and head up and you will blast through this into Phase 3.
3) You'll Ski At My Pace and Like It: The Infamous Hawk Hill
One could call this a big climb, but they would also call the Midwest ground zero for big mountain alpine skiing. The challenge here lies in the trail width – it doesn't afford a three-person wide "I'm more fit than you" contest. This will help those who believe that this is their spot to make a move – trust me, it's not. Let the trail width save you from yourself. Relax and flow up the hill, look forward to the great view from the top and the fun descent to follow.
4) Enjoy Your Next 20km: The Blowup
This overlooked bump will inform you immediately as to what kind of day you are having. A SNEAKY uphill that takes 30 seconds to ski but can put you one minute or more ahead (or behind) someone who started it with you. I have watched President Truman drop Fat Man AND Little Boy on legit racers here…However, if you are feeling good, this can be a great place to strut your stuff.
5) Fruit Of The Loom Is Not Going To Cut It: The (Sometimes) Cold Part
If you begin your clothing layers like with the same piece as Walter White in the first episode of Breaking Bad, you may regret it. "Frostbite Flats" translates directly in skier to "wear your wind briefs." Even if it is warm on the day of the race, wind block material can't hurt. This section of the course (from Baker Creek to the finish) contains great open skiing, where you can ski big and let your skis glide out. Don't forget to enjoy the amazing views of the Boulders and the Big Wood River!
6) Move It Or Lose It: The Finish
I've been the one moving it – and also the one losing it. The end of the race is narrow, twisty, and FLAT. Think tactically, save energy, and do NOT start sprinting too early! The final drag is long, so be patient and time your 'move' such that you die (metaphorically only please) at the finish line, not 10 feet before it.
Remember these six phases and you might have a good race, or not, it's really up to you. Write your own BMT phases; hopefully they involve fun racing, good weather, great snow, and amazing people. Enjoy your time on the Harriman Trail, it's a beautiful place and you only get to race on it once a year (if you're lucky)!
Matt Gelso is a retired professional ski racer, formerly with the SVSEF Gold Team. As a member of the University of Colorado NCAA Ski Team and the U.S. Ski Team, he raced throughout the U.S. and Europe in World Cup and World Championship competitions. He now deals commercial and residential real estate in the Wood River Valley with Paul Kenny & Matt Bogue Real Estate. He is the 2018 Boulder Mountain Tour champion.