ZIONS BANK REMAINS TITLE SPONSOR OF BOULDER MOUNTAIN TOUR
The Boulder Mountain Tour is delighted to announce Zions Bank remains the event's title sponsor for the fifth consecutive year.
Tracy Groll, Regional President of Idaho Resort Banking, remarked, "We enjoy partnering with the BMT because it supports the local community and we believe it's extremely important to invest and participate in the communities where we have a presence."
Bob Rosso, a longtime board member and local business owner, concurred, "We are really thrilled to have Zions back as our title sponsor. Zions has really terrific people who back us up, give us support, and share really creative ideas. It is an excellent relationship and one we are very appreciative of."
Boulder Board President John Reuter added, "Long-term sponsorship is incredibly important for the BMT because it allows us to make educated planning decisions toward growing the event and maximizing the positive impact of the BMT on the community as a whole. Specifically, Zions' five-year sponsorship has allowed us to increase our marketing and outreach, improve our timing and results, modernize our website, and deliver a "presentation" to visitors that highlights this amazing valley in which we live."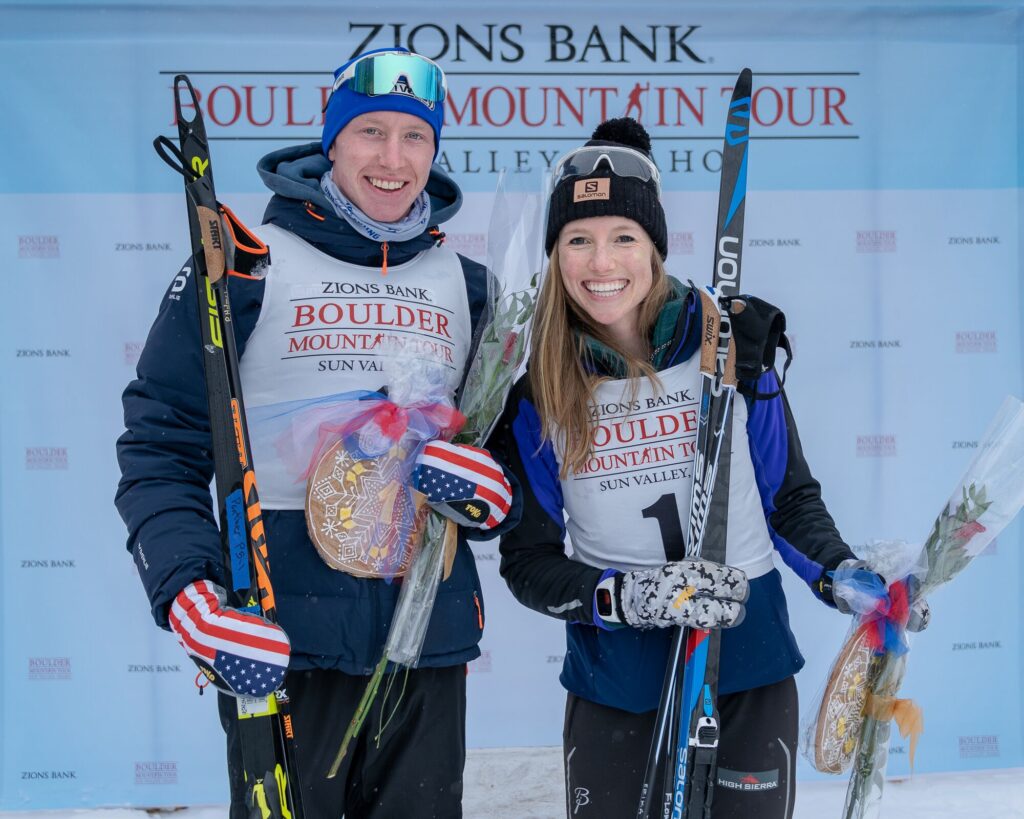 Salt Lake City is the corporate headquarters for Zions Bank, which does business in 10 different western states in the U.S. In addition to Idaho and Utah, Zions and its subsidiaries have locations in Oregon, Washington, California, Colorado, Nevada, Arizona, and Texas. There are two branches in the Wood River Valley in Ketchum and Hailey. (Tip: Check out the freshly-baked cookies offered every Friday).
Notable among Zions Bank's BMT enthusiasts are Mark Garfield, Senior Vice President of International Banking, who participates with his whole family. This year, seven skiers related to the family were in the field, and Garfield semi-jokingly says that one of the criteria to marry into the family is being able to ski the Full Boulder.
"That is exactly the case!" Garfield exclaimed.
Of course, being a zealous cross country skier helps, and Garfield is a prime example of how Zions encourages its employees to exercise and take care of themselves and how that philosophy spreads to the greater community as well.
"As a bank organization, we are encouraged to stay active and healthy and have incentives to do so. I believe the handful who do participate (in the Boulder) recognize the superb course conditions and beautiful landscape Sun Valley has to offer," Groll said.
Community is at the heart of the Boulder Mountain Tour, and that is readily apparent in the remarks offered by both Groll and Reuter.
"Having Zions Bank remain as our title sponsor demonstrates Zions' long-term commitment to supporting our local community. The BMT is technically just a ski race, but it's actually a celebration of Wood River Valley – its natural beauty, its welcoming people, its local businesses. Zions Bank understands that supporting the BMT is really supporting the place we call home," Reuter remarked.
"I think the biggest thing I would like people to know is that we really do support our community – whether it's a sporting event, the arts, nonprofits, or cultural – it's important to us. We are invested," Groll said.
The Zions Bank Boulder Mountain Tour is the premier cross country ski marathon in the western United States. Held annually on the first Saturday of February, the Tour's 34k route travels from Galena Lodge on the historic Harriman Trail in the Sawtooth National Recreation Area to the finish line across from SNRA Headquarters. There is also a 15k Half Boulder that begins at Baker Creek. The event attracts upwards of 1,000 people with more than 50 percent of participants from out of town, representing 23 states and three countries. This year's race is on Saturday, February 1, 2020. Registration opens on July 1 at www.skireg.com.