Boulder Mountain Tour Ltd. is an IRS 501(c)3 nonprofit organization. Our mission is to organize and promote the Boulder Mountain Tour ski race and to support the sport of cross-country skiing.
Established in 1973, the Boulder Mountain Tour is one of the oldest cross-country ski races in the United States. A treasured winter tradition in the Wood River Valley, the Boulder annually attracts upwards of 1,000 competitors, invigorating the valley's historic ski culture, its financial health and the lives of our participants.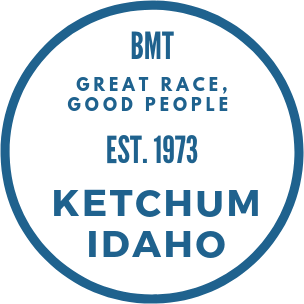 General Donations 
As we move toward our 50th anniversary, your gift helps sustain the Boulder Mountain Tour, allowing us to keep our race accessible and inclusive for all who would like to participate.
All donations are entirely tax-deductible and thoroughly appreciated.
IRS Letter of Determination
IRS Letter of Determination for BMT
Jon Engen Award 
Given in memory of Jon Engen, the Engen Award is giving to the man and woman who improve their times the greatest from the year before. The Engen Award was established by the following individuals and organizations in Jon's honor:
Tom Campion, Jean and Brent Estep, Richard and Kelly Feldman, Jim Fredericks, Dave Knoop, Marshall Peterson, Roger Miller, Rich Mull, Rossignol, SWIX/TOKO, Jimmie Vaughan, Darlene Young.
Champions of the inaugural Engen Award in 2019 were Aniko Pearson and Troy Smith. Both were given commemorative belt buckles and belts by Foster Weld in Boise, Idaho.
Donations may be made to the Engen Fund. The fund is restricted solely to the perpetual award and donations are entirely tax-deductible.
To Give
Please contact Jody Zarkos, executive director, at bouldermountaintour@gmail.com or (208) 720-1810.